These quick and easy oven roasted sweet potatoes are the perfect side dish for tonight's dinner…or even as a healthy snack. Whether you decide to add a bit of garlic and carrots to the pan, dip these crispy creations in honey when they're warm out of the oven, or eat them just the way they are, you can't go wrong with this yummy recipe.

Your friends and family will likely agree this is one of the best recipes you've ever made. But let it be our little secret that it's super easy to make. So grab your pan and start cooking!
How many sweet potatoes do I need?
I generally use 1 potato per person and then add an additional potato. (i.e. If I'm serving 4 people I'll cut up 5 potatoes.)
Easy Oven Roasted Sweet Potatoes
4-5 Sweet Potatoes
1-2 tablespoons Olive Oil
1 teaspoon Salt
1/2 teaspoon Pepper
1 teaspoon Italian Seasoning
Preheat oven to 400 degrees.
Peel and cube potatoes.
Toss potatoes and spices in a bowl to coat; add olive oil and mix well.
Place on a foil lined baking sheet and cook 40 minutes.
Note:
*For crisper potatoes use less olive oil.
**If you'd rather have sweet potato fries instead of the cubes, you can definitely do that instead. You may have to cook a little bit longer though.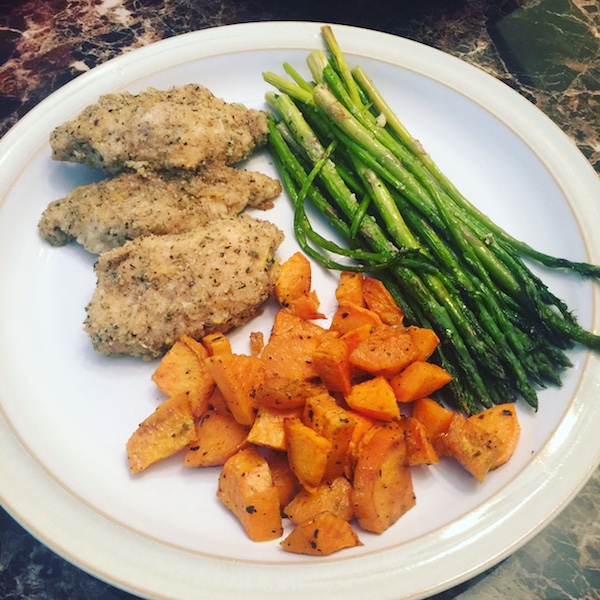 The hardest part about these easy oven roasted sweet potatoes is deciding what to serve with them. They pair perfectly with both oven fried chicken or baked fish. I've even added broccoli to the pan and roasted it alongside the sweet potatoes. The sky is the limit!
What would you serve with these oven roasted sweet potatoes?
---
L I N K S   O F   T H E   D A Y
30 Minute Meals: Roasted Pork Tenderloin with Cranberry Lemon Couscous