Are you looking for a healthy chewy granola bars recipe that your kids will love? These are simply the best (even better than store bought in my opinion) and my husband loves the crispy crunch from the cereal. Grab your oatmeal (either quick oats or old fashioned will work), honey, coconut oil, peanut butter, rice krispies and chocolate chips and let me show you how to make this super easy no bake recipe!
(Are you trying to eat healthier? Check out all of my healthy recipes here.)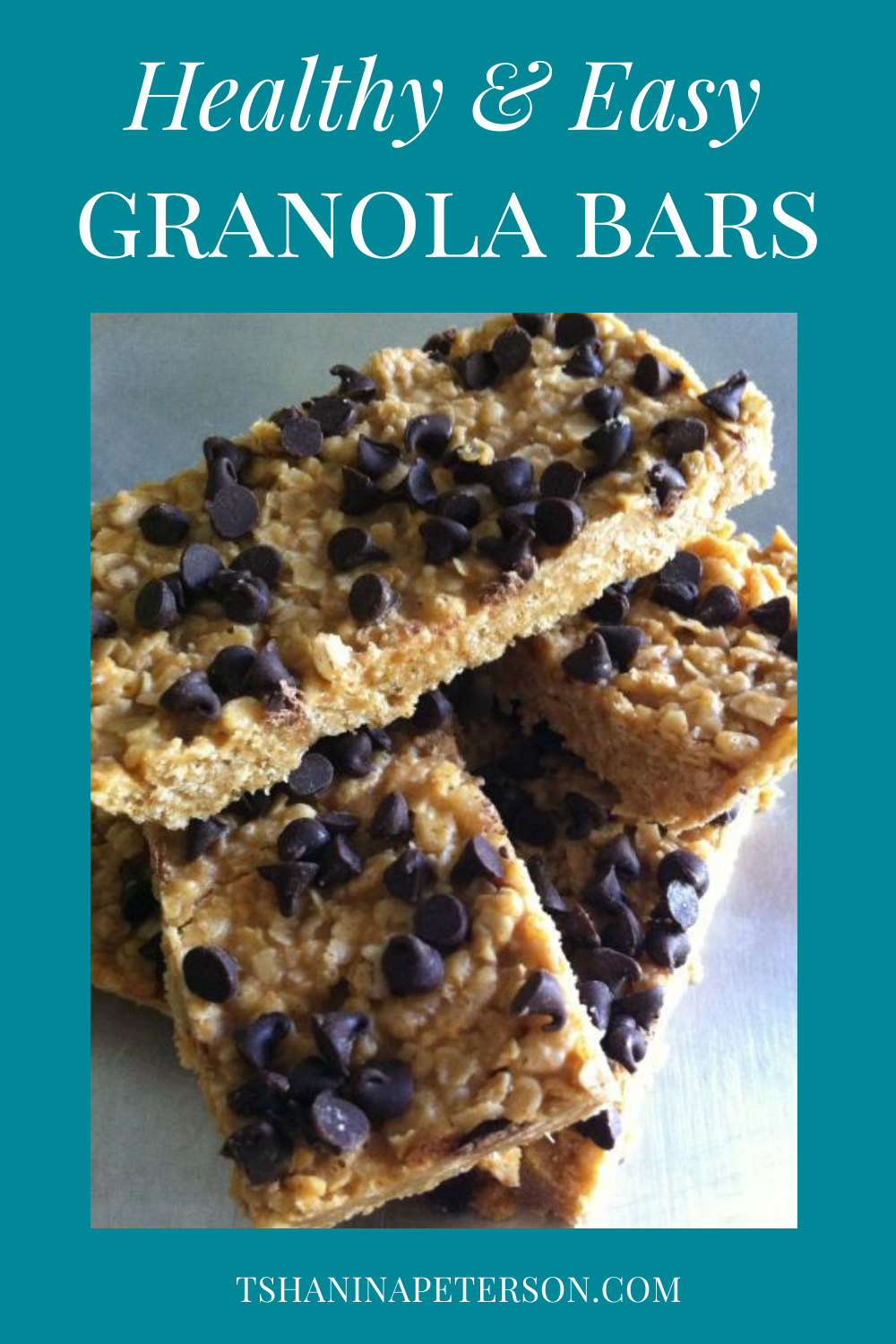 Granola bars are a staple around our house. I pack them in Trent's lunch and you may even find me munching on a few here and there. The store-bought bars are made with high fructose corn syrup and other additives, and the healthy bars generally taste like you're eating cardboard. So, to find a happy medium, I figured I'd try to make my very own healthy chewy granola bars. And boy am I glad I did because these puppies are super yummy and even better than store bought!
I recommend that you use a natural peanut butter that only has peanuts and salt as the ingredients. This is a much healthier option and will cut down on added sugars. Don't worry, the honey and chocolate chips will give these bars plenty of sweetness!
What's that grainy looking stuff in the middle you ask? Well, I decided to sneak in some flax seed. Trust me, once you taste these bars, you'll never know it's there. (I might even add more next time I whip these up!)
The true taste test came when Trent tried them. After he put that first bite in his mouth I knew he was hooked…and then he asked for more. Even though these bars are chewy, he said he liked the crunch that the crispy rice cereal adds!
Like most of the recipes I make, these chewy granola bars are very versatile. You could easily replace the chocolate chips on top with nuts, raisins or anything your little heart desires! And, you could even add chocolate chips into the mixture before spreading them in the pan.
I found that the bars were easiest to cut by using a pizza roller. But, keep in mind that the roller doesn't quite cut to the edge of the pan so you'll need to use a knife or spatula to finish it off! And, who says your bars need to be perfectly straight?!? Not me! Hey, they'll taste thee same whether they're straight or not.
Healthy Chewy Granola Bars Recipe
1 cup Peanut Butter
1/2 cup Honey
1/2 cup Coconut Oil
2 1/2 cups Rolled Oats
1 1/2 cups Crispy Rice Cereal
1/4 cup Flax Seed (optional)
1/4-1/2 cup Mini Chocolate Chips
In a medium pot, melt together your peanut butter, honey and coconut over medium-low heat, stirring occasionally.
While your mixture is melting, grind your flax seed and spray a 9 x 13 pan with cooking spray.
When the peanut butter mixture is melted, stir in the flax seed, rolled oats and cereal. Spread in a 9 x 13 pan. Sprinkle chocolate chips on top and press down with your hand.
Refrigerate for 2 hours or until firm. Slice into desired bar sizes (square or rectangle).
Store your bars in the refrigerator in an airtight container with plastic wrap in between layers.
Try not to eat the whole pan at once!
Recipe adapted from Five Heart Home.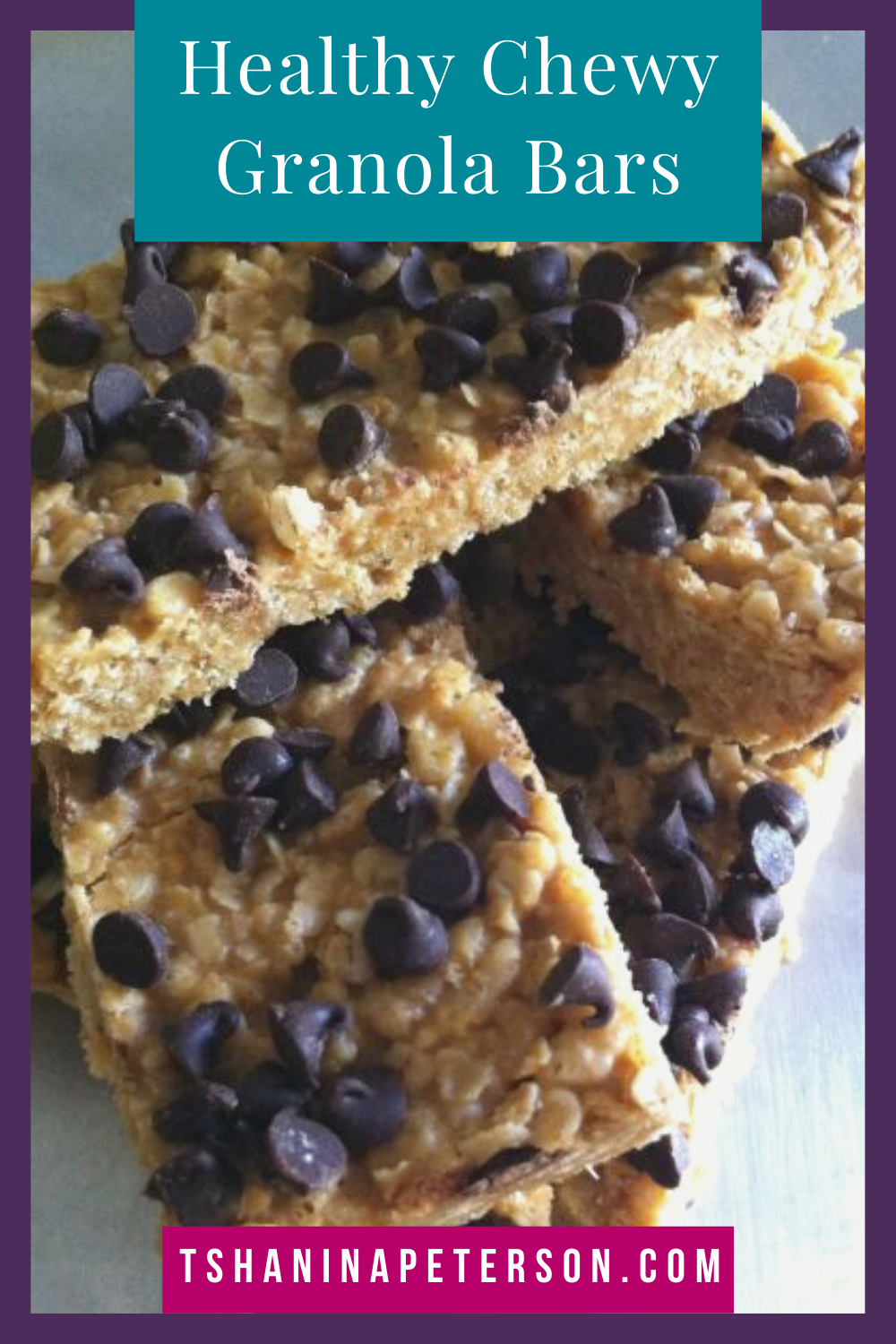 ---
EQUIPMENT
---
Read Next: