You're going to love this quick and easy strawberry bread recipe. It's perfect with both fresh or frozen strawberries. Make a healthy and gluten free variation by adding almond flour. This homemade bread is super moist and the best I've tasted!
(Need more quick and easy recipe ideas? Check out all of my recipes here.)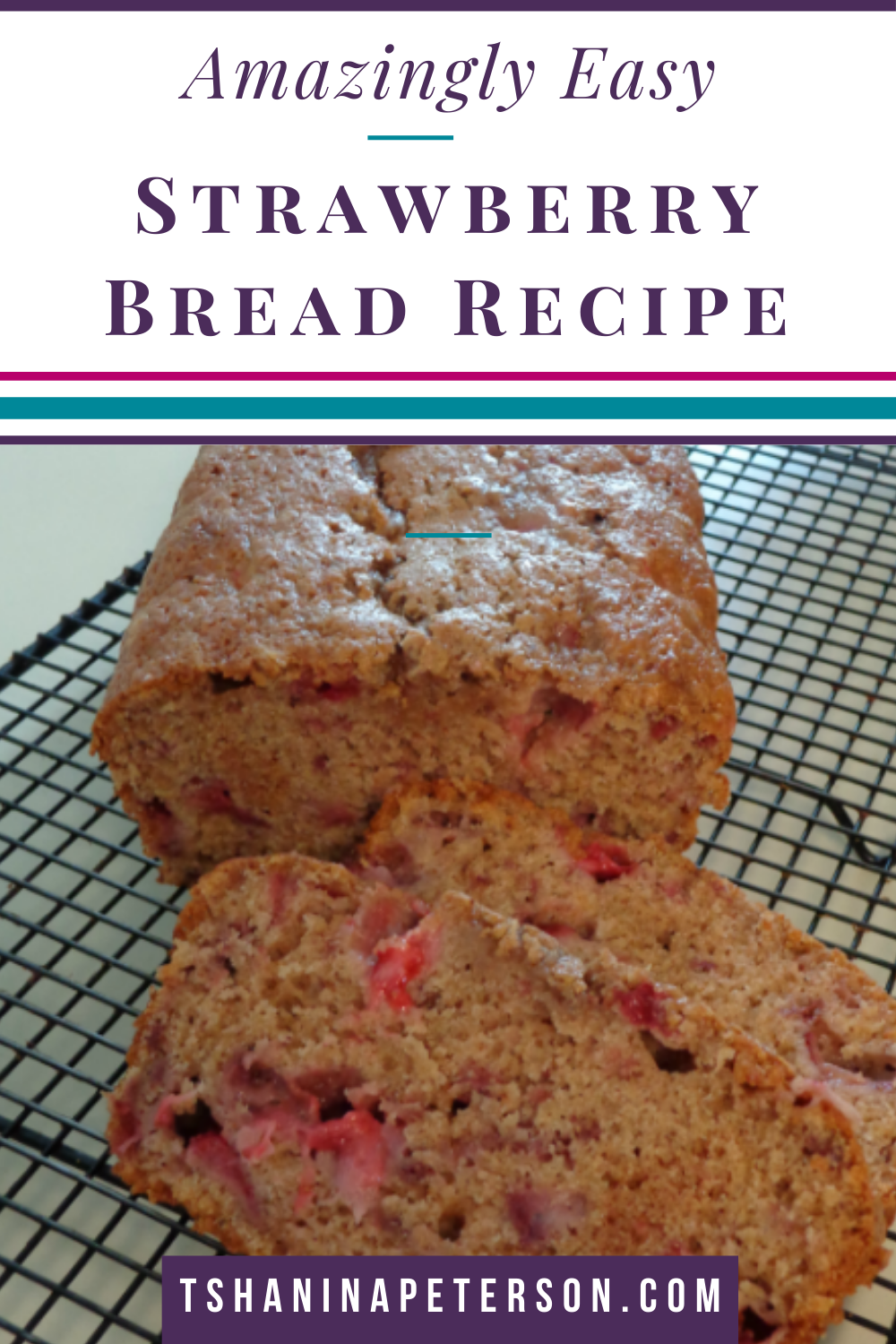 Whether you have an over abundance of strawberries or just want a sweet treat, you've come to the right place with this Strawberry Bread recipe!
I'll be honest, this recipe is perfect for strawberries that are almost at the point of no return, but you can also use perfectly ripe or frozen strawberries that have been thawed. It's time to pull out your mixer and loaf pan and get some bread in the oven, friend!
Quick & Easy Strawberry Bread
1/2 cup Oil (I use coconut oil)
2 Eggs
1 1/2 cups All-Purpose Flour (or use Gluten Free Flour)
1 cup Sugar
1/2 teaspoon Salt
1/2 teaspoon Soda
1/2 teaspoon Cinnamon
1-16 oz pkg of Strawberries, sliced
Preheat your oven to 350.
Mix together oil and eggs.
Add the dry ingredients to the liquid ingredients and mix well.
Add strawberries.
Spray the bottom and sides of a bread pan with cooking spray.
Pour your bread mixture into the bread pan and cook for 50-60 minutes, or until a cake tester (or toothpick) inserted in middle comes out clean.
Allow pan to cool for 10 minutes on a cooling rack.
To remove the bread from the pan, first run a butter knife around the edges of the bread (this will ensure that the bread isn't stuck to the pan.) Turn the pan over onto your wire rack and your beautiful loaf of bread should come out clean as a whistle.
Allow your bread to fully cool on your wire rack.
---
Equipment:
---
Read Next: