This chilled Strawberry Soup is light and refreshing and perfect as a dessert, appetizer or even an afternoon treat. You're going to love how easy the recipe is to make!
(Are you trying to eat healthier? Check out all of my healthy recipes here.)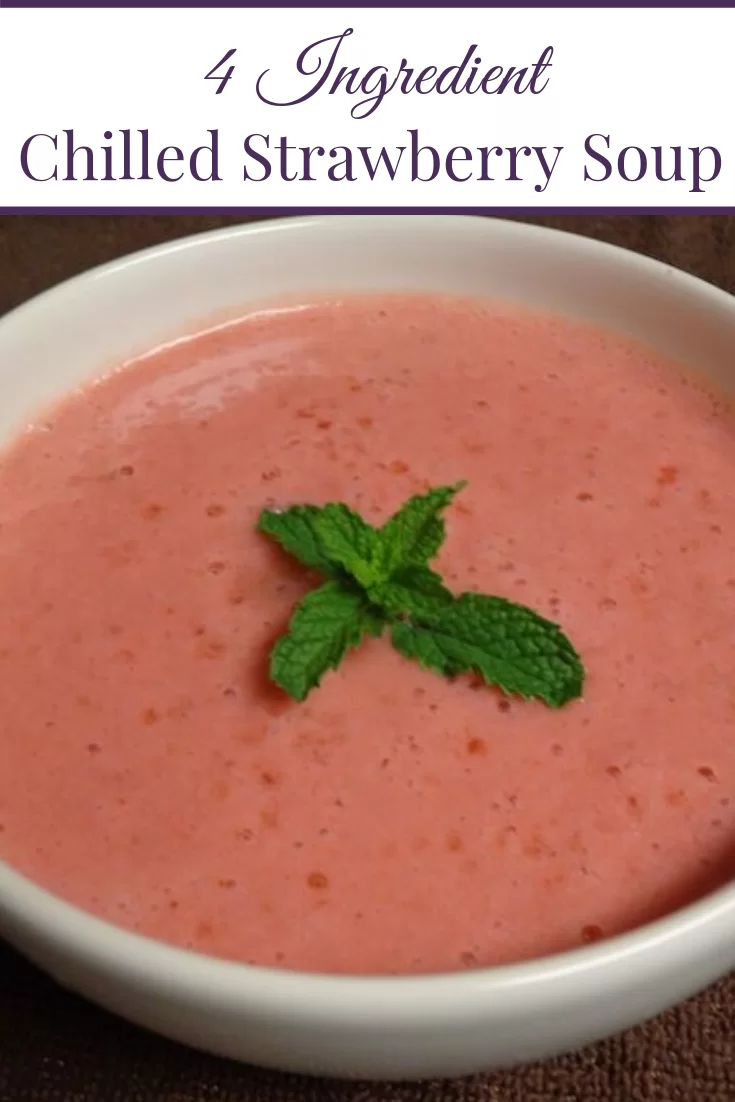 The big idea for this chilled strawberry soup recipe was born a few years ago when Trent and I took a cruise. We dined on all kinds of yummy creations, one of which was chilled soup. After that trip I knew I had to make my own!
I have no idea how labor intensive their recipe was, but I can assure you that this recipe is super easy and you'll have your soup chilling in the fridge within 10 minutes! (If I would have known how easy cold soup is to make, I would have made it long before now!)
This recipe is the perfect creation for those of us who want to serve our guests a "fancy dish" but don't have tons of time to spend in the kitchen. (Shhh…it'll be our little secret!)
The hardest part about this recipe is…wait, there isn't a hard part because it's super simple. It's pretty much a dump and go kind of recipe, which is pretty close to perfection in my book!
Funny story – When I told Trent that I had made strawberry soup he didn't seem to excited about it. But, once he tasted it, I won him over, and he even asked for another sample. HA!
Chilled Strawberry Soup
8 oz Strawberries
1 1/2 cups Vanilla Yogurt
1/4 cup Orange Juice
1/4 cup Honey
Slice the large strawberries in half.
Place all ingredients in your blender and mix until blended.
Refrigerate for two hours before serving.
If desired, garnish with mint leaves.
Yield: 3 servings
Recipe adapted from Taste of Home.
The best way to describe this Chilled Strawberry Soup is light and refreshing. It's perfect to serve as an appetizer on a warm day or even as a yummy treat/snack.
If you're kitchen is overflowing with another kind of berry, you could definitely make this soup with whatever you have on-hand. Hmmm…I can just imagine the flavor combinations!
---
Read Next: