Don't be intimidated by a shrimp boil. This Super Easy Shrimp Boil recipe uses frozen corn and fully cooked shrimp and sausage! Your friends and family will love it and you'll be amazed at how quick and easy it is to make.
(Need more quick and easy recipes? Check out my recipes here.)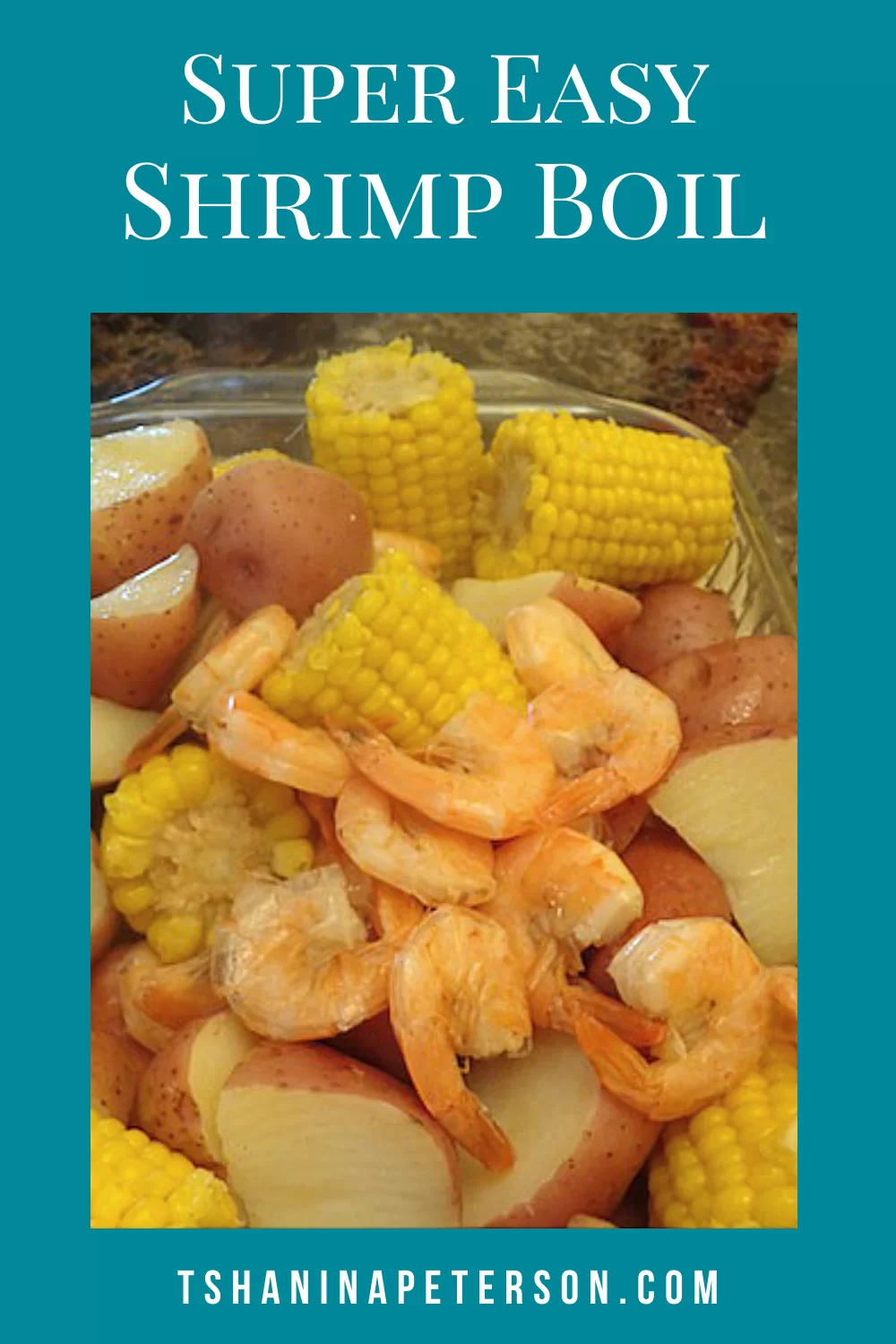 Trent's been asking for shrimp, so a few weeks ago when they were on sale I bought some.
When he got home from work and found out that I was making a shrimp boil he was super excited. But now the pressure was on and I hoped that it would be as tasty as he anticipated!
If you've been around here for any amount of time, you know that I always try to use what we have on hand. The original recipe called for fresh ingredients. All I had on hand was frozen corn and fully cooked sausage and shrimp. Surely it would work! I knew I'd have to cook things a bit differently since my items were pre-cooked.
I've heard that Old Bay is the best but I couldn't find their boil bags. The McCormick Shrimp and Crab Boil bags worked great though!
Super Easy Shrimp Boil
24 oz bag of frozen, Peel and Eat Shrimp, thawed
13 oz cooked Sausage, cut into pieces
8 frozen Mini Corn, thawed
6 Red Potatoes, quartered
1 Shrimp Boil Bag
1 Lemon, halved
Fill a large stockpot 2/3 full of water. Add the boil bag and lemon and bring to a boil.
Add the potatoes and boil 10-13 minutes.
Add corn.
Wait 5 minutes then add the sausage (the water won't return to a boil but will still be super hot).
Wait 2-3 minutes; add the shrimp and cook for 3-5 minutes (or until the shrimp is ready).
Drain off the water. If desired, top with melted butter.
This recipe will serve 4 people.
This dish was super easy, and I don't know why I haven't tried to make a shrimp boil before. I guess it's because it sounds like an intimidating dish. But, it's really not though!
Trent gave me the green light to make this recipe again! Now that's what I'm talking about!
---
Read Next: