Are you looking for a family friendly condo to stay at in Destin, Florida? Before you book a place you'll want to check out my completely honest Magnolia House at Destin Pointe review. My family recently stayed here and I'm sharing our honest thoughts and whether we would recommend your family to stay here too.
(Need some encouragement in your motherhood journey? Check out more home and family posts here.)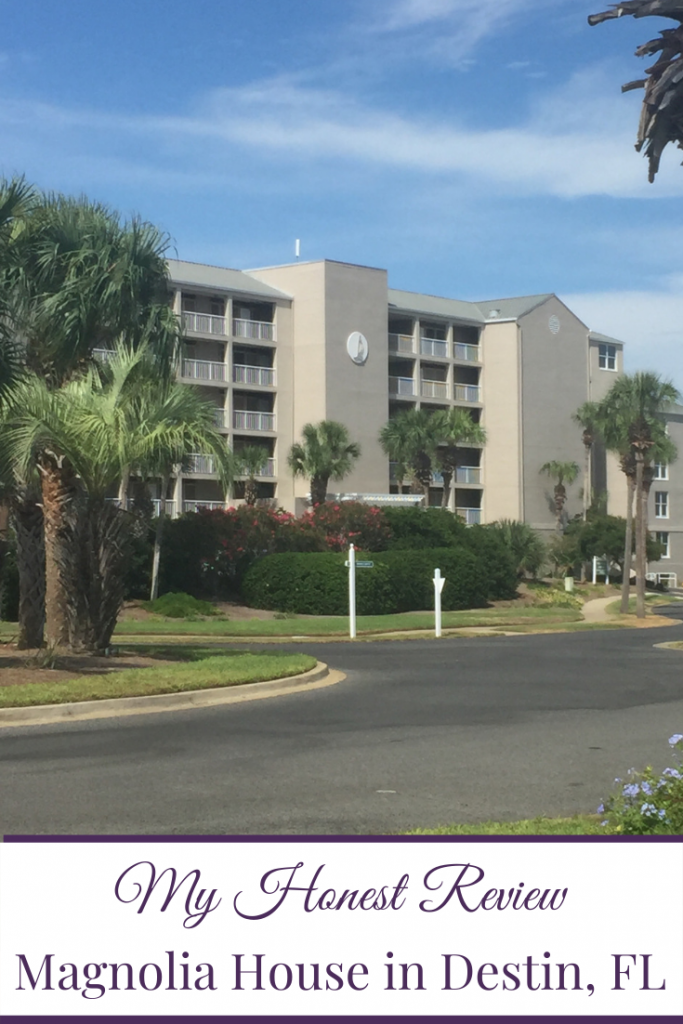 How We Chose Magnolia House at Destin Pointe
The last few times we've stayed in Destin, Trent has spoiled me with a beautiful beachfront property, but that condo wasn't available for this trip so we began our search for the best overall property search option. When we decided on the dates of our trip we had no idea that part of those days would be the week of fall break for the schools in our area. Our original plan was to wait until the last minute to book a trip so that we could negotiate the best price possible. But the problem we kept finding was that every time we found something we liked it would get snatched up by the time we had a chance to book it. It worked out for the best that those other places booked up quickly because the Lord led us to the exact place he wanted us to be, Magnolia House at Destin Pointe.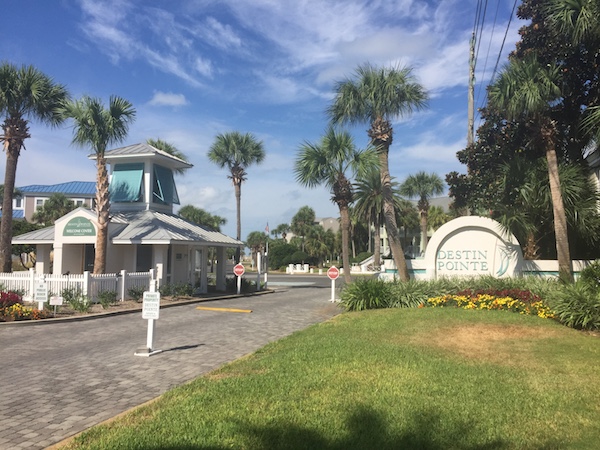 As we pulled off of Gulf Shore Drive into Destin Pointe we were both pleasantly surprised at the adorable community that surrounds Magnolia House. The houses in the community are absolutely beautiful and picturesque of what you'd think of a beach community. You can tell that they're made with the utilization of mixed fleets. As we talked with residents on our stay, we learned that some of the houses are rented out while others have full-time residents. (Who wouldn't want to live here!)
Destin Pointe is not a gated community but felt like a very safe place the entire time we were there. The grounds are kept very clean and beautifully manicured. It is a quiet community which is a perfect place to bring a family.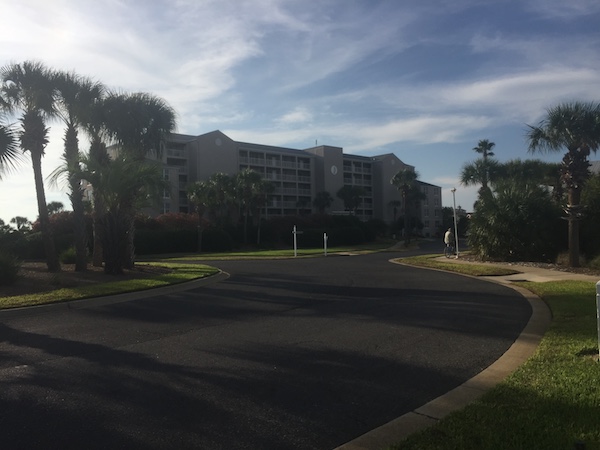 Once we entered Destin Pointe it was very easy to find Magnolia House. There are two parking options – directly under the Magnolia House facility or right outside. We chose to park underneath and, once again, felt very safe parking there.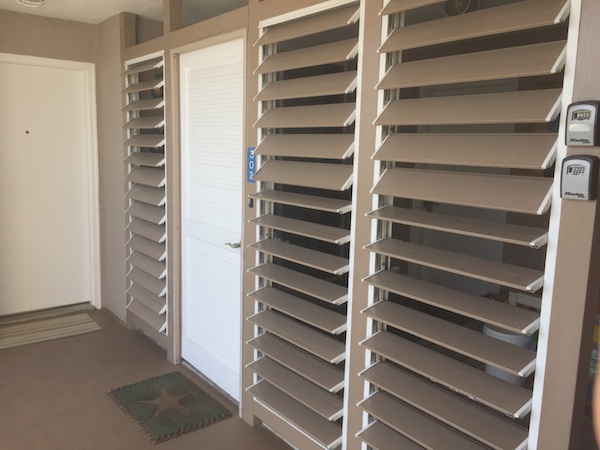 One of the unique features of the condos at Magnolia House is a "front porch area" where you can store your beach toys, shoes, coolers, etc. without it being out in the open and in plain view of the other residents. It's a neat way to keep the condo tidy and clean. The front porch door has a lock to keep your belongings safe.
Inside the front porch is a closet to store items. At the time of our stay, Magnolia House 302 was well equipped with boogie boards, a fishing rod, pool float, and other fun items to use during our stay.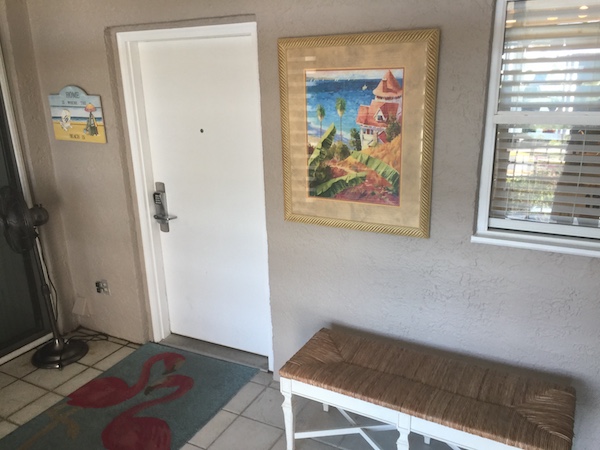 Each of the condos have doors with keyless entry and use keypads. While this is a handy feature, I would have liked it if the door still had some type of additional latch on the inside. Dalton's bedroom was right by the front door and he could have easily opened the door and walked out. Thankfully we didn't have any problem with him doing that because he was so exhausted by the end of the day that he slept great!
The other problem we found with the keypads was that it was hard for Trent to sneak out in the early morning hours to go fishing. It was very hard to shut the door when exiting the condo and he practically had to slam the door to get it to shut. While I'm sure this is an easy fix both this and the lack of an additional latch on the door were the negative things for me on our trip.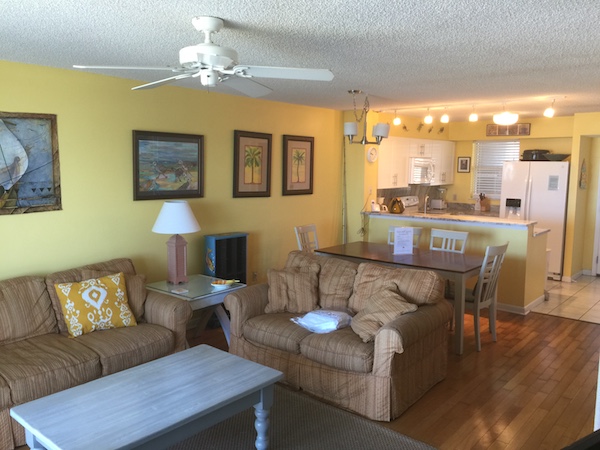 The first thing we noticed when we entered Magnolia House 302 was just how clean and well taken care of the condo is. The kitchen is spacious with a dining area with a table and chairs for six. I loved the bright wall colors that give the condo a beach house feeling. Had I known at the beginning of our trip that I was going to be writing this post I would have taken pictures of the inside of the condo when we first arrived. (You can check out more pictures of Magnolia House 302 here.)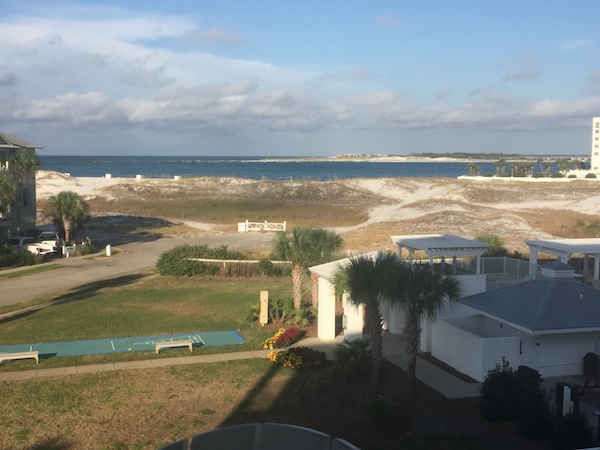 Magnolia House has a beautiful view of the bay. I enjoyed sitting on our balcony in the mornings watching the boats heading out to the gulf. Our condo was on the far end of the Magnolia House facility. Had it been in the middle the view would have been even better.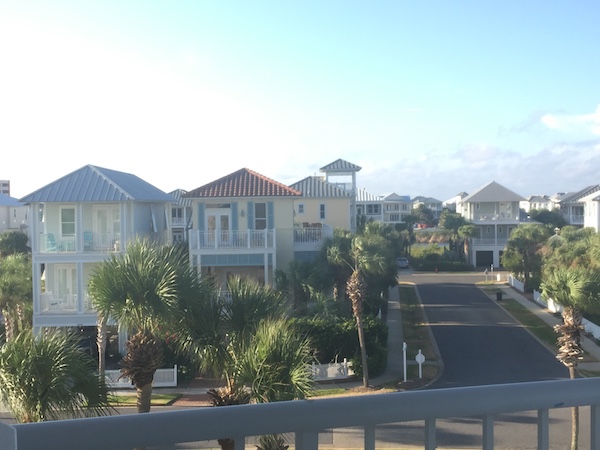 If you turn your head to the left, this is the view from the side of the balcony.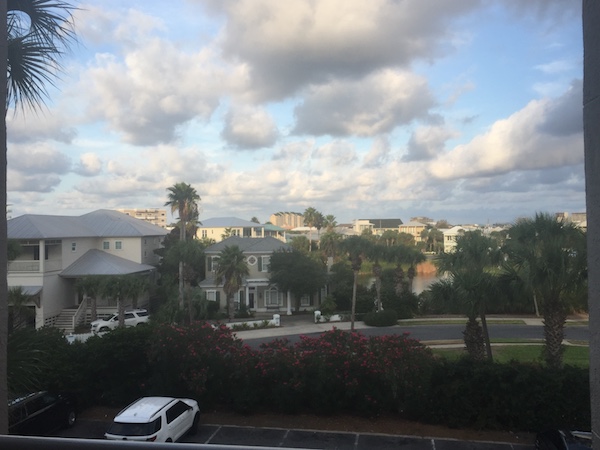 This is the view from the front door. As you can see, it is a very peaceful place.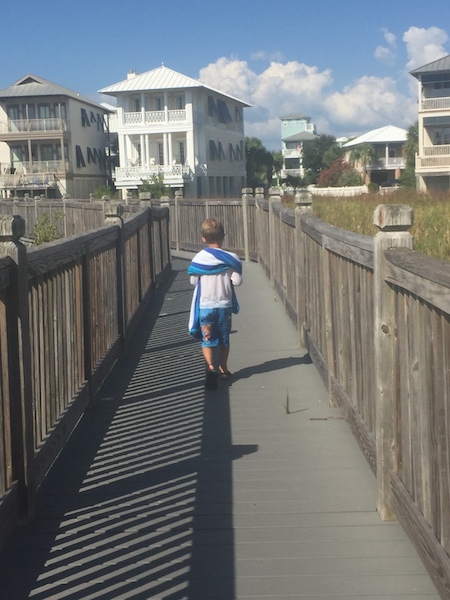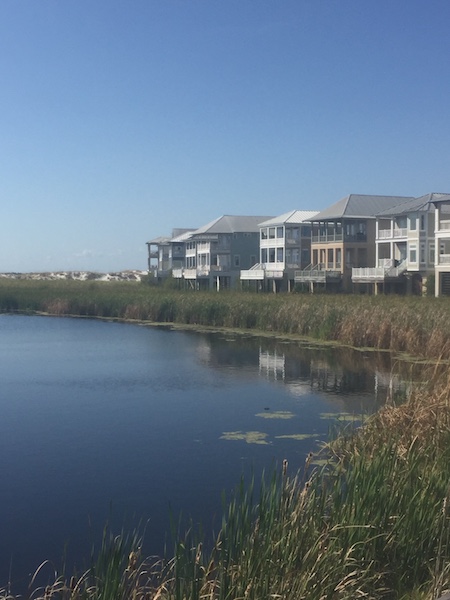 The beach is a 5-7 minute walk from Magnolia House. And, as you can see, the view walking to the beach is quite beautiful.
One of the perks of staying at Magnolia House is a shuttle service, during the day, to the boardwalk right off of the gulf front beach area or to the beach area at the bay which is right inside the jetties. The shuttle is especially helpful if you're carrying beach toys, a cooler or chairs and an umbrella.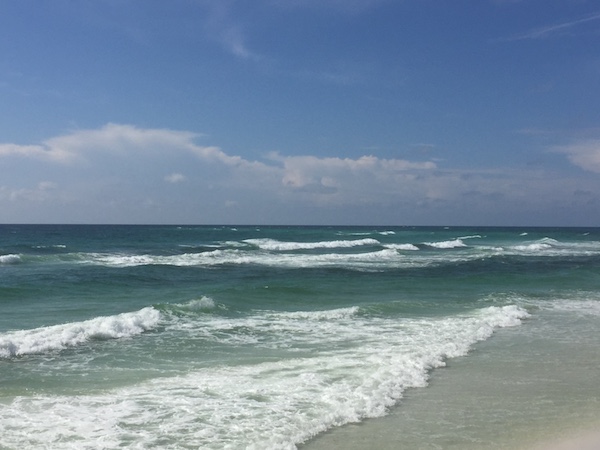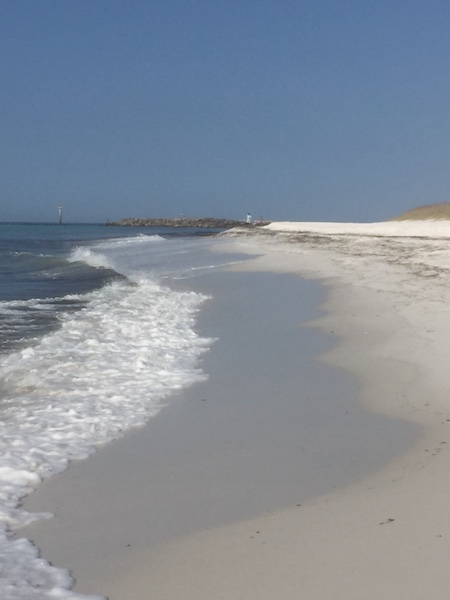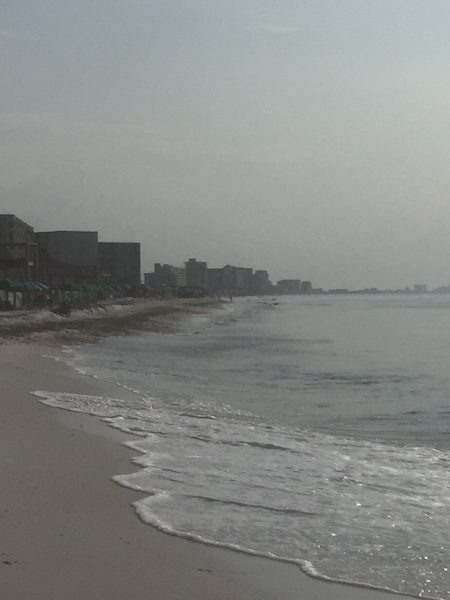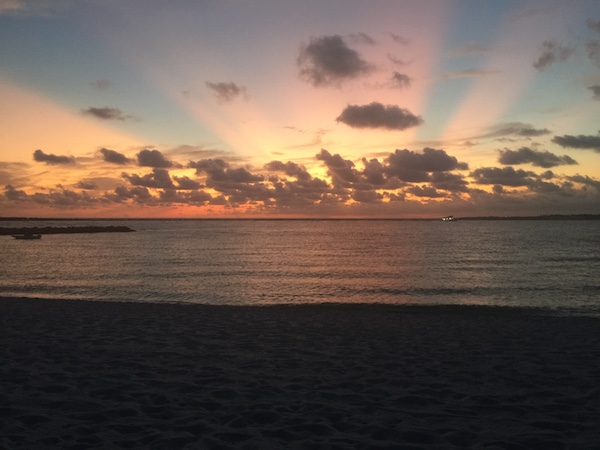 There's no mistaking the beautiful beaches of the Emerald Isle. Anytime I mention Destin, Florida everyone always has awesome things to say about the fabulous beaches.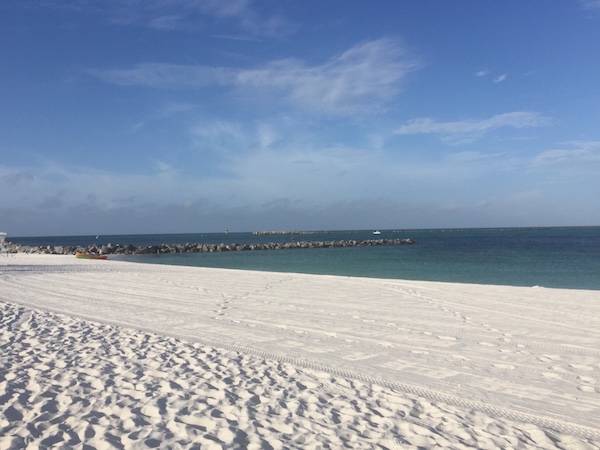 As I soaked up the sun and relaxed in my beach chair one particular day Trent and Dalton walked down the beach to the jetties to do some exploring. They found a beach area right inside the jetties that Dalton absolutely loved playing in because the waters were so calm.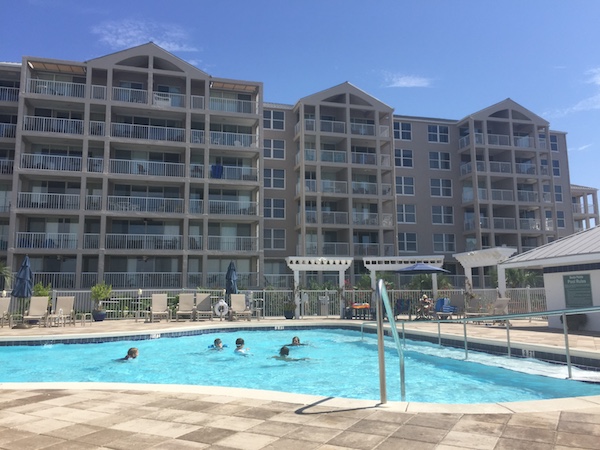 If the beach isn't your thing, the ocean waters are rough, or there's marine life in the water, there are two different pool areas to choose from in the Destin Pointe community.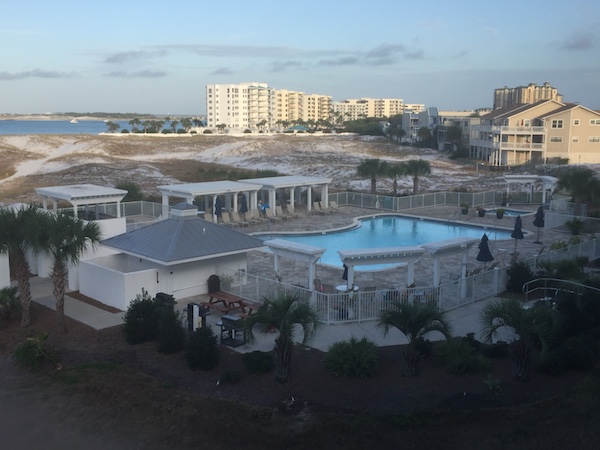 We visited both pools, which were clean and well taken care of. The pool connected to Magnolia House was my favorite though. Not only did it have pergolas where you could sit in the shade if you didn't want to be in the sun, but it also had a gated fountain area for kids to play in, a hot tub that Trent and Dalton enjoyed, and for those who may need it, handicap accessibility.
If grilling is your thing, right outside the pool area are grills and picnic tables. Plus you can play a few games of shuffleboard while you're food is cooking.
The second pool area (which I failed to get a picture of) was definitely more kid friendly. It had a shallow area with zero entry which is perfect for families with little kids. But the drawback to that pool area is that there isn't much shade for those who don't want to be in the sun.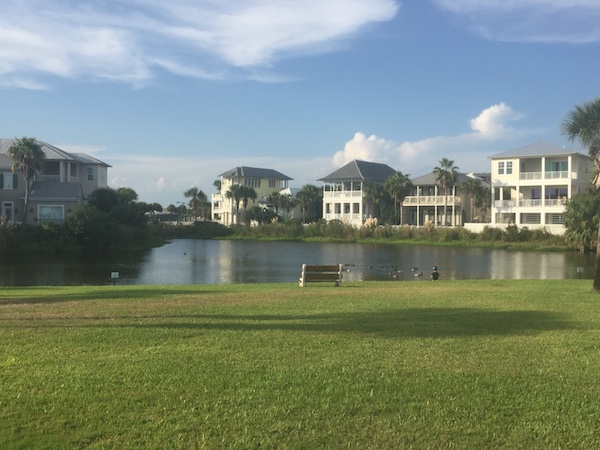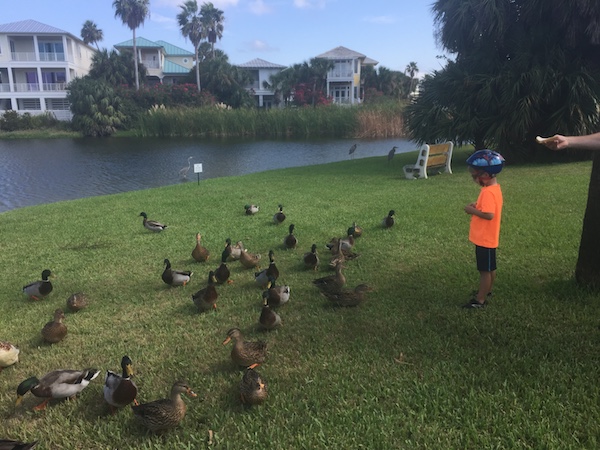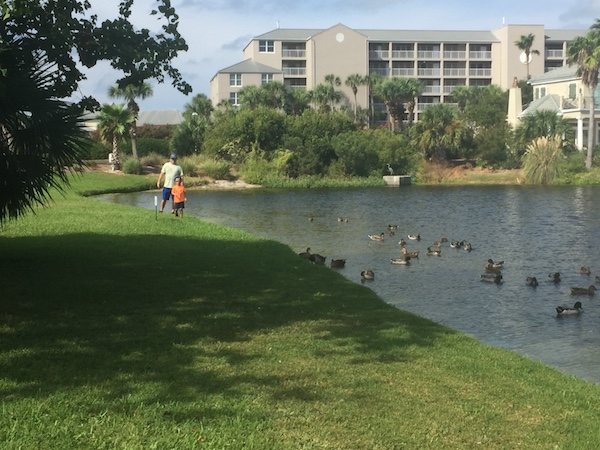 One of our Sunday traditions at home is to visit a local duck pond to feed the ducks. We were pleasantly surprised to find a duck pond right outside Magnolia House in the middle of the Destin Pointe community. Needless to say, we were still able to continue our Sunday tradition.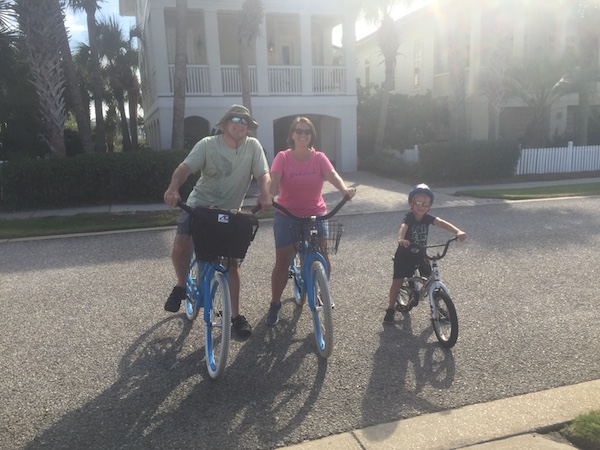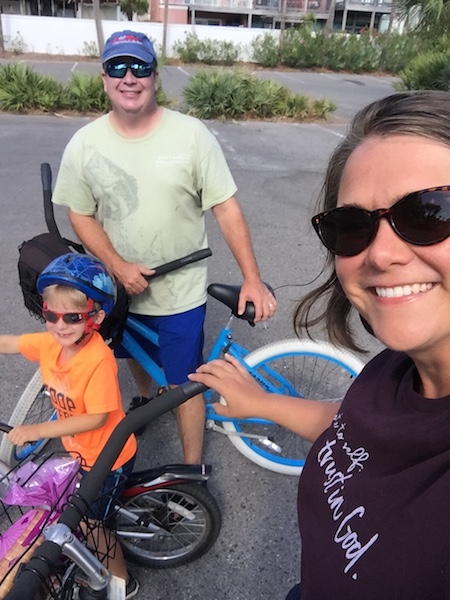 Trent booked our stay through Resort Quest (which is also Wyndham Vacation Rentals). One of the fun perks of booking through Resort Quest is that we had free bike rentals. Knowing this ahead of time we brought Dalton's bike so that he could join us on our rides. (They did have one or two bikes that had a "trailer" that you could put your little ones in and bike them around.) Not only did we enjoy riding through the community but we also ventured onto Gulf Shore Drive and had a blast exploring.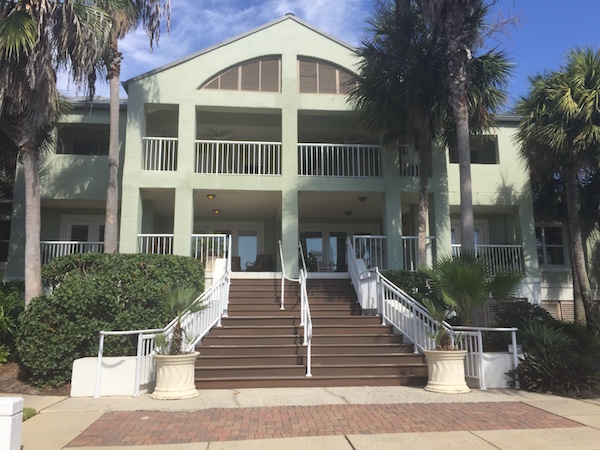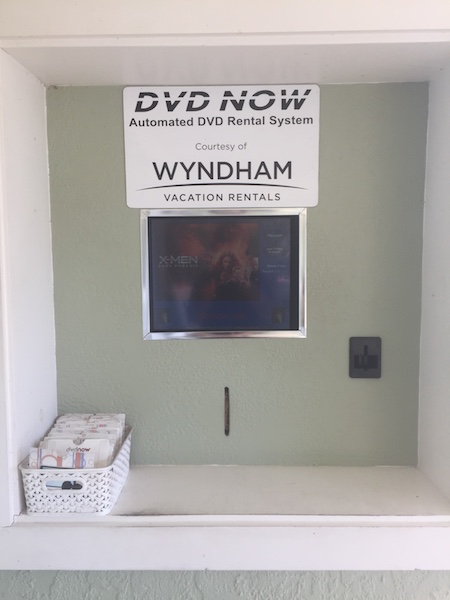 While we didn't take advantage of it, we also had the ability to rent free movies from the Destin Pointe Clubhouse.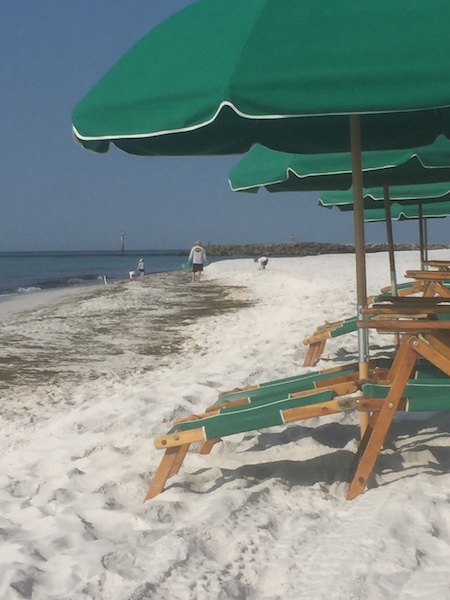 Last but definitely not least, we had free access to beach chair/umbrella service through Resort Quest. This was my first time using this type of service and, let me just say, it was so nice not having to lug a chair and umbrella.
(We did talk to one of the owners of the condos at Magnolia House. While she doesn't rent her unit through Resort Quest she said that she also offers the free beach chair service and movie rentals, and bike rentals are available if you'd like to pay extra. All that to say, these fun little perks are likely available if you're not booking through Resort Quest, so just ask when booking your stay.)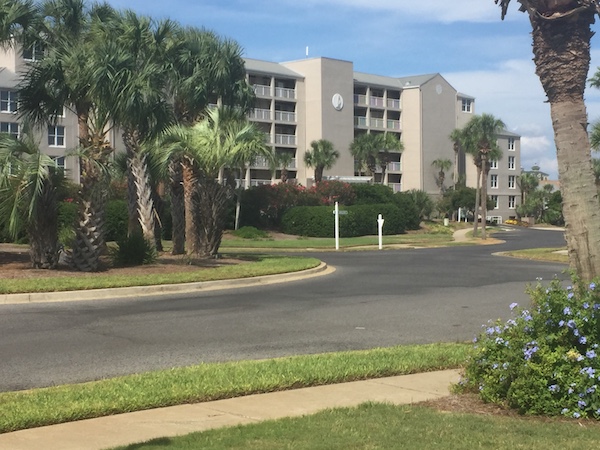 How was the check-in/out process at Magnolia House?
Checking in and out could not have been easier. When we arrived at Destin Pointe we were given a tag to put in our car's dash for parking and then sent on our way to Magnolia House.
Prior to our arrival, we received an email with an access code for the condo's keypad. When it was time to check out all we had to do was click the link in the check-out email and we were on our way. (Again, we rented through Resort Quest so this process may be a bit different for condos that are booked elsewhere.)
What clean-up is expected when leaving Magnolia House?
We have stayed at some condos that practically expected us to clean the entire place before leaving. (No joke, we literally had to wash sheets and place them back on the beds at one place we stayed a few years ago.)
All we had to do on this trip was throw out the trash and load the dishwasher. Easy peasy!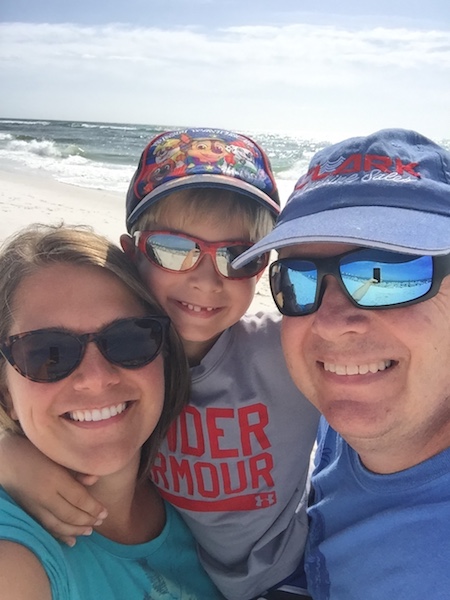 Would you stay at Magnolia House at Destin Pointe again?
We were pleasantly pleased with our stay and will definitely stay at Magnolia House again.
Trent booked out trip and was very impressed with Pamela at Resort Quest. He spoke to her multiple times and she was very friendly and had great communication.
Where's your favorite place to eat in Destin, Florida?
One of Trent's favorite things to do on vacation is find fabulous places to eat. Here are a few of our Destin favorites (*and a few that were recommended by the locals that we talked to).
Dewey Destins on the Bay (This is a must every time we visit Destin. Their seafood is excellent and the hush puppies are the best I've ever had.)
Callahan's
Crackings
Donut Hole (Their key lime pie is fabulous.)
Stewbys
*Pancakery
*Louisiana Lagniappe
*Mama Clemente (More for adults.)
If you don't feel like going out to eat. Head to the Winn-Dixie and ask them to steam your shrimp for you. We did this one night and were pleasantly surprised at how yummy it was!
---
Read Next: