These screen free road trip activities for preschoolers will save your sanity and keep your child entertained on your next roadtrip. You're going to love these ideas!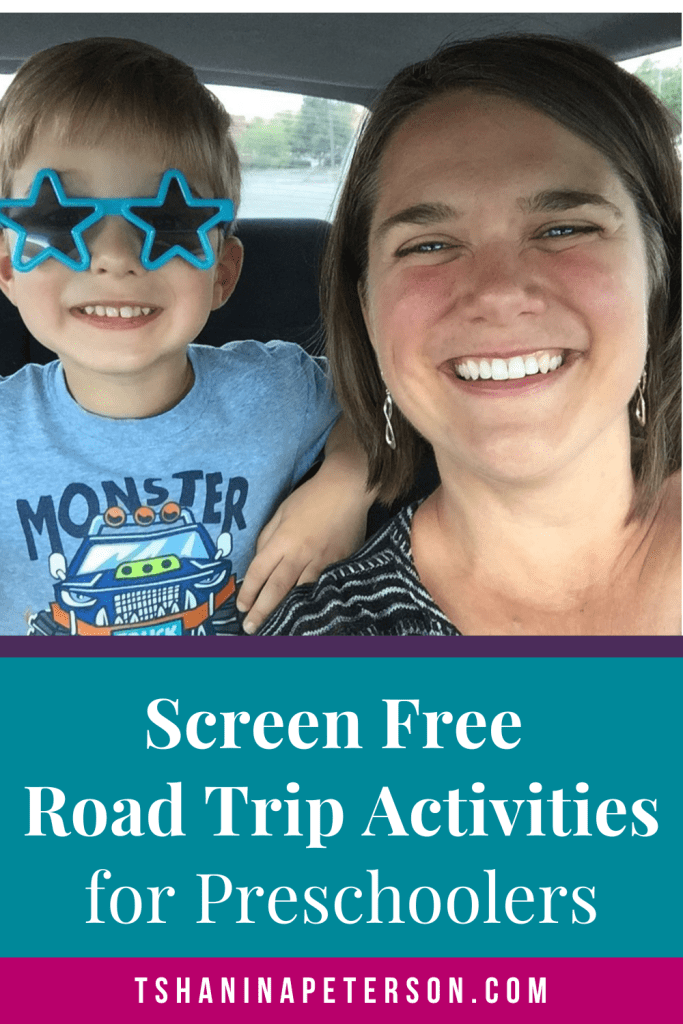 My preschool son and I had an upcoming road trip to visit with family. Not only was the long drive looming in the back of my mind but the thought of keeping a preschooler entertained in the car for hours felt like a daunting task.
He'd done fine on 3 hour road trips but how would he do with a 9 hour drive?
While I know there are tablets and DVD players for the car, I haven't introduced them to him yet. And I want to hold off on that as long as possible. (I survived 10 hour road trips to Pennsylvania when I was a kid without technology so I think he can too!)
I knew I had to find some awesome things for him to do in the car. As I perused the aisles at the store I was saddened to find that there weren't many screen free activities. So, I went to the best source I know and asked for recommendations from my friends on Instagram. (You guys really are the best and gave me tons of awesome ideas!)
The best idea I heard was to have a new activity/toy every hour. I knew I had to try it!
Screen Free Road Trip Ideas for Preschoolers
Not only am I sharing the activities I came up with but you'll also see some other fun ideas that available!
I love that these activities can be used for many road trips to come!

Silly Putty – Pull the putty out of the container and your child can mold away to their heart's content.
Water Wow – Fill the pen with water and color the pages. Once the pages dry you can color them again and again. (Melissa and Doug are genius!)
Magna Doodle – Use the pen to write/draw then slide the button at the bottom to clean everything off and start again.
Water Games – Push the buttons to get the rings on the hooks. (I remember having a blast with these as a kid and I'm so grateful my friend let me borrow hers.)
---
More Screen Free Preschool Activities
---
A New Toy – I took Dalton to the store to pick out a new truck that he could open when we were on our road trip.
He has had his eye on Red from the Cars movie for the longest time so it was the perfect time to buy him.
In the days leading up to our departure he let me know that Red was going to be the first thing he played with on our drive. I loved how excited he was!
To keep the cars from floating all over the place I put them in containers. When it was time for that activity to be over he had to hand them back to me in the container.
Coloring Books and Crayons – What kid doesn't love to color? (The best storage for crayons is in an empty vitamin bottle. The best place I've found coloring books is at the Dollar Tree.)
Mess Free Coloring Books and Markers – The pages of these books will come to life as your child begins to color them. (They'll love the book and you'll love that they don't have marker all over them and their carseat!)
Repositionable Sticker Set – Place the stickers on the trifold scene and move them around to your heart's content.
---
More Fun Screen Free Ideas
---

Cookie Sheet and Magnetic Letters – The key to this activity working is to make sure that the cookie sheet is magnetic. Believe it or not, not all cookie sheets are. I found this one at the Dollar Tree.
Wiki Sticks – If your child likes to create they'll love twisting and moving the sticks into various shapes and designs. The sky's the limit on their designs.
(not pictured) Play-Doh – Use the cookie sheet as a table for your kids to create with the Play-Doh. You'll also want to make sure you have plenty of wipes on hand once they are done.
Add another dimension to the Play-Doh fun with a shapes and tool set or a numbers and letters set.
Books – In addition to having a container of books for him to look through I also had this Curious George Read Along Book with CD's and an iPod loaded with audiobooks. (I did not give him the iPod but ran it through the car speakers.)
Below are his favorite audiobooks. (The best way to get free audiobooks is with the Libby app or by signing up for a free audible trial.)
Organizing Your Activities Is Key
Organizing your activities is key!
Especially if you're traveling alone like I was having your activities organized is very important.
I had the basket of activities on the front seat right beside me so that I could easily hand them to my son.
Don't expect your child to play with each activity for a full hour.
There were times when I would hand an activity to him and he'd play with it for a few minutes and want to hand it back for something else. But I told him that he needed to play with it because he couldn't have anything else for a while. After I told him that he decided to keep it and play with it longer.
I say do what works best for you and your kiddo. Since I was driving alone I knew that it wouldn't work for me to be handing him something different every few minutes.
A Fun Surprise for A Long Road Trip
If you're taking a long road trip hide an extra activity and pull it out when you're an hour or two from home. (My sister had given us some toys to take home with us and when I pulled those out a few hours from home my son was super excited to see something new.)
I hope these screen free activities make your next road trip fun for your preschooler!
Originally written in 2018.
---
If these screen free road trip activities for preschoolers were helpful you might also enjoy: