Be intentional in your prayer life by learning how to easily prioritize praying for others. You can truly mean it when you tell friends and family you'll be praying for them. Let me show you how!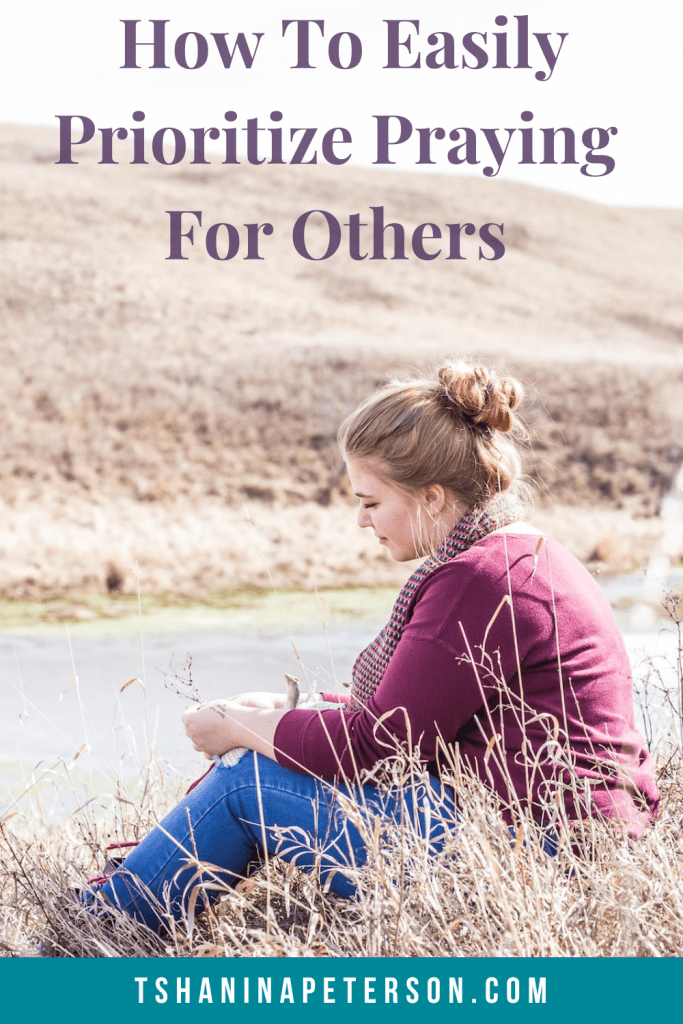 There have been times when I've told people I'd pray for them and then unintentionally forgot 30 minutes later. (I'm not proud to admit that but it's the truth.)
When someone asks me to pray for them I want them to know that I will.
I'm learning that if I want to be known as a prayer warrior that I need to be intentional and prioritize praying for others.
Here are a few tips that have helped me be intentional about praying for others.
6 Easy Ways To Prioritize Praying for Others
1. Listen For The Holy Spirit's Prompting
As you're going through your day the Holy Spirit will nudge your heart and a friend or family member will come to mind. Take this time to pray a short prayer over them.
2. Pray for Others Via Text
When a friend texts asking you to pray for something going on in their day respond back with a written prayer instead of a, "Yes, I'll pray for you."
3. Stop and Pray
The next time you're talking to a friend who's sharing what's going on in her life and you don't have the words to say stop and prayer for her right then and there!
Yes, I know it can be awkward but the Father knows her needs and will give you the words to say. Praying over her and lifting the situation to Him is powerful and the best thing you can do.
4. Make A Prayer List
Be intentional about praying for others by making a prayer list. It can be as simple as a list on the notes on your phone, a sticky note for the week or fancier like a prayer journal.
When someone asks you to pray for them, before you forget, stop and add their request to your list. As you're having your devotions or prayer time pull out your list.
5. Add Prayer It To Your To-Do List
If you have a super busy schedule and want to be intentional about praying for others add prayer to your to-do list. I know it may sound funny but there's no shame in doing this.
6. Ask Others How You Can Best Pray For Them
For your friends or family members that are either heavy on your heart or you want to be intentional about praying over, every couple weeks ask them how you can best be praying for them.
Some of these suggestions might be awkward at first, but when you get in the habit of practicing them they'll become second-nature.
Never underestimate what a huge blessings your prayers are to the people in your life! Your prayers make a difference.
---
If this was helpful in showing you how to prioritize praying for others you might also like: