Does God really care about me? If you've ever asked yourself this question keep reading to find out what scripture has to say as I answer this question and a few others too.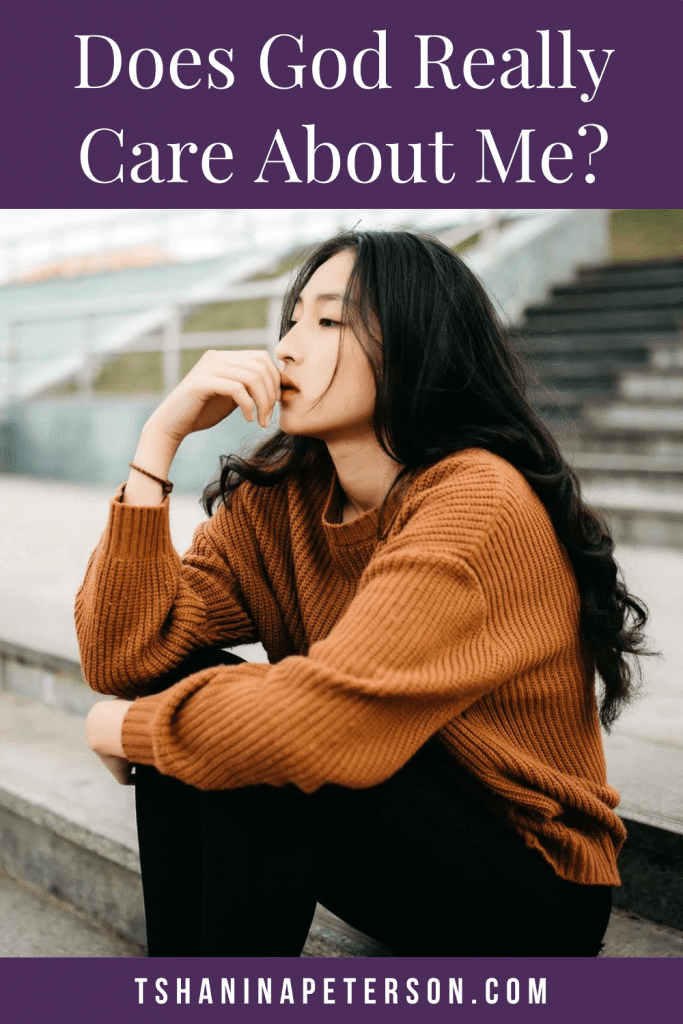 Life throws us some major curveballs doesn't it? One moment things will be smooth sailing and then all of the sudden the roller coaster ride begins leaving us to wonder if God really cares about us.
Much like you, I've been there so many times. It's human nature to ask yourself if God sees what's going on or even cares.
Instead of giving you the "churchy" answer that, yes, God does care about you, I want to give you some examples of just how He cares about people, their feelings and the problems they're facing.
Let's tackle these questions and answer the question, "Does God really care about me."
You are welcome to use the links below to skip to the content that interests you most.
Does God care about my happiness?
I want to start with a personal example because maybe, just maybe, you'll be able to relate.
A few years ago our family had a big decision to make. We prayed over the decision for months and asked God to guide us. When the time came to make the decision we had peace to move forward.
Months later the door was slammed shut in our face.
I'll be honest…I was devastated.
We had prayed and moved in the direction we thought He wanted us to go. What had gone wrong?
I was hurt and wondered if God really cared about my happiness.
After all, why would He give us peace about moving forward only to shut the door?
It wasn't until a year and a half after the original door closed that I realized that the Lord was protecting me by slamming the door shut.
Boy, it didn't feel like it at the time but now it's crystal clear!
I questioned for a long time why He didn't allow us to walk through that original door, but now I see why He didn't. Now I know that, yes, God does care about my happiness. He has my best interest at heart and I just need to trust His plan, especially when it doesn't make sense.
Jeremiah 29:11 reminds us, "For I know the plans I have for you," declares the Lord, "plans to prosper you and not to harm you, plans to give you hope and a future."
Does God care about my problems?
In John 11, Mary and Martha were faced with a painful situation and, much like many of us, they felt like God didn't care about their problems and what they were going through.
You see, their brother, Lazarus, was sick. They knew Jesus loved Lazarus so they sent word to tell Him. But instead of heading straight over to check on them, Jesus stayed where he was for two days.
If I were them I surely would have wondered if He cared about my situation and the pain I was walking through. Wouldn't you?
When Jesus finally started making his way to see His friends, He learned that Lazarus had died. (And when he got there, Lazarus had been in the tomb for four days.)
You can imagine that Mary and Martha were not happy with Jesus when He showed up. They felt like he didn't care about their problems. After all, if he had cared their brother wouldn't be in the tomb for four days.
I love Jesus' compassion for these sisters. (It gives me comfort knowing that He'll show the same compassion for me!)
Verse 33-35 tell us, "When Jesus saw her weeping, and the Jews who had come along with her also weeping, he was deeply moved in spirit and troubled…Jesus wept."
Oftentimes it doesn't feel like it, but these verses assure us that God cares deeply for us. He knows exactly what we're going through and the pain we're facing. And just like Jesus was with Mary and Martha, He is deeply moved by our circumstances and what we're walking through. It may not feel like it, but He's walking right beside us through our pain.
Will you take hold of His hand and let Him comfort you? (Isaiah 41:13)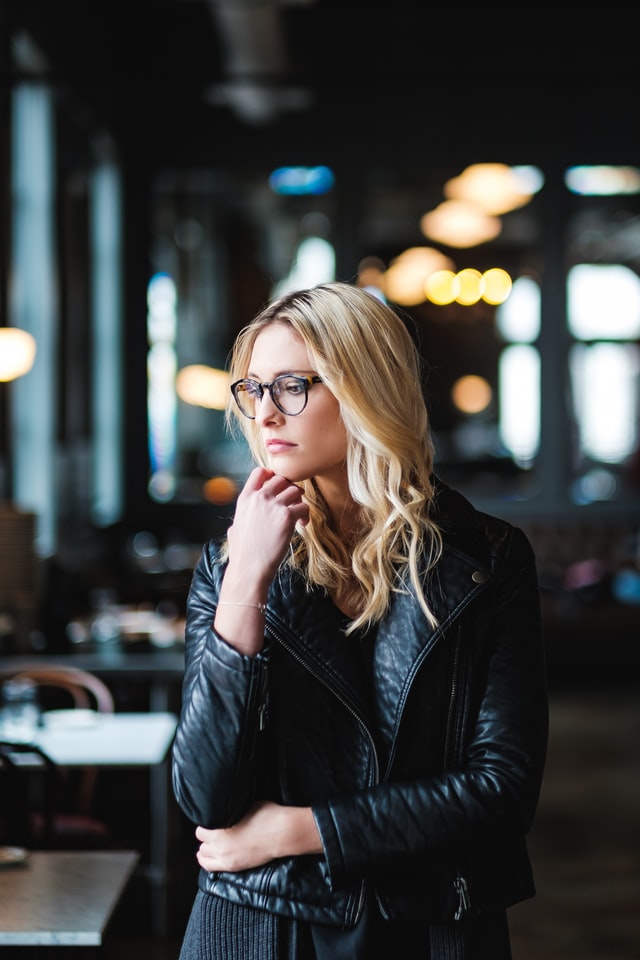 Why doesn't God take away the hard times?
"Do not let your hearts be troubled. Trust in God; trust also in me." – John 14:1
In his devotional, My Utmost for His Highest, Oswald Chambers points out that the words "do not let" from John 14:1 are a command. God is letting us know that He's not going to keep our hearts from being troubled.
To be quite honest, my first thought when I read that verse is, that's not fair.
Much like a parent who does everything for their kids doesn't teach them anything, we'll never learn from life's lessons if God takes things away from us.
It's definitely a tough pill to swallow!
Instead of taking things from us He hands the responsibility over to us and leads and guides us through life's tough situations.
Oswald says, "Continually pick yourself up, even if you fall a hundred and one times a day, until you get into the habit of putting God first and planning with Him in mind."
Will you let Him lead and guide you through the hard time you're walking through?
Does God care about me and what I want?
One of my favorite children's movies is Finding Dory. On Dory's journey to find her parents she meets an octopus named Hank.
All Hank wants is to get on a truck headed to Cleveland. He promises to help Dory find her parents if she'll give him her tag that will enable him to get on the truck.
But then Hank finds true friendship in Dory and the tag he so desperately wanted isn't important anymore. His plans and what he wanted changed and (spoiler alert) at the end of the movie he ends up living with Dory and her family.
So often I'm like Hank. I set my heart on things only to discover there are much better paths I could be walking down.
God sees our desires and even though they may not be His best plan for us sometimes He allows us to start walking toward them.
Now, let's take a look at scripture and see what it has to say about God caring about us and what we want.
In Luke 15 Jesus tells a parable (story) about a selfish son who tells his dad he wants his share of the estate. Yes, before the dad is dead he's asking for his money!
The son thinks he knows what he wants and takes his inheritance only to squander it on wild living.
When he runs out of money he gets a job feeding pigs.
One day he's so hungry that he begins eating the pig's feed only to realize how wrong he was. He decides to head back to his father not only to ask for forgiveness but to ask if he can work as his dad's hired hand.
In this story Jesus represents the father and we represent the son. We may think we know what we want and start walking toward it only to realize that it's not the best plan.
I love this quote by Lisa Terkeurst. "God often works in the unseen. Just because we can't see it or feel it doesn't mean he isn't working."
Even though it might not feel like it right now God does care about you and what you want!
Does God care about the little things?
So often we expect God to be like the Fairy Godmother in Cinderella who waves her wand and makes everything perfect for a night at the ball. While He could do that, that's not normally how He works.
Many times He shows up in small ways:
A friend texting to let you know that she's praying for you…when she has no idea that you're having a hard day.
A random invitation to coffee with a friend.
Finding a handwritten note in the mailbox.
In the times when you wonder if God cares about the little things fill your mind and heart with the words of Matthew 7:26 and be reminded that, yes, He absolutely cares!
Look at the birds of the air; they do not sow or reap or store away in barns, and yet your heavenly Father feeds them. Are you not much more valuable than they?
Be intentional about looking for the little blessings in your day. I promise they're there…sometimes you just have to look a little harder for them!
The next time you ask yourself whether or not God really cares about you I pray that you will be reminded of these truths from scripture!
---
Was this article helpful and remind you that God does care about you?You might also enjoy: