I don't know about you but I love to play card games such as w88. Over the past year I've been teaching Dalton how to play UNO. I'm amazed at how well he's picked it up and now he can play without my help. It's so much fun! Of course I want the same fun for you and absolutely must show you how to easily teach your preschooler how to play UNO.
Like I said, over the past year I've been teaching Dalton how to play UNO. It's quickly become one of his favorite games and friends and family are amazed at how well he can play for his young age (3 1/2). Here's how I taught him!
1. Match Up Colors & Numbers
When he was 2 years old I introduced the UNO cards to him and we would match up the colors and numbers. This was perfect for his age and a great way to learn and have fun at the same time.
I will say that there were lots of times, especially at the beginning, when he would pick up the cards and throw them all over the place. It was frustrating, to say the least, and felt a bit like 52 card pick-up, but I'm glad I stuck with it. (And, yes, I made him help pick up too!)
2. Add the Skip
It was quite a while (at least 6-9 months) before I taught him how to use the Skip card. (They were always in the deck and we'd match up colors but he never knew how to use them.)
When I did show him how it worked he was ecstatic. It's now his favorite card and he loves to be able to skip mommy and daddy. He giggles when he finds one in his stack of cards and is able to use it!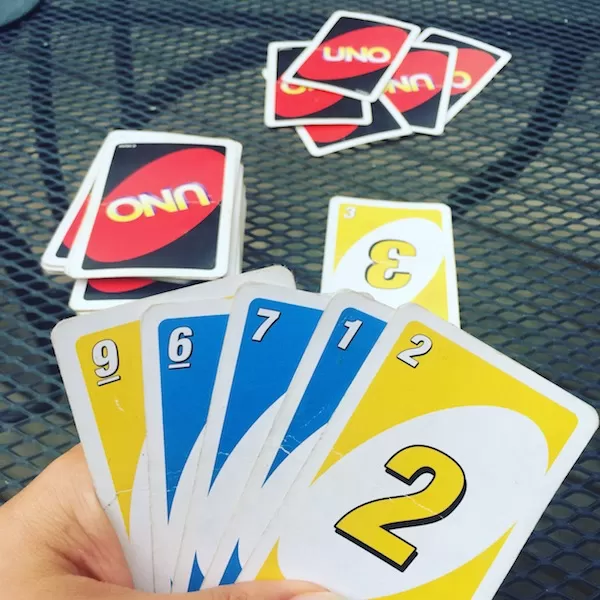 3. Add the Wild and Draw 2
About a month after adding the Skip card I felt like he was ready to learn how to use the Wild and Draw 2 cards. I thought for sure that he'd be more excited about them than the Skip card but, alas, I was wrong.
When using the Wild cards let your child decide which color he'd like to pick. Of course, he may need help or direction at the beginning but I promise he'll catch on quickly.
The best way to teach this it to have him look at the cards in his hand (or card holder) and see which color he has the most of – teach him this is the color he should pick. Of course, if he's like my son he may pick a certain color just because he has a Skip card. Ha!
4. Add the Reverse
If it's just you and your child playing together it's difficult to show him how the Reverse card works. So when you're playing with a 3rd or even 4th person (and you feel he's ready) show him how the Reverse card works. This, in my opinion, is the most difficult card to explain.
When you're teaching your kiddos new things it's best to start small. But I promise they're smarter than we think and will pick it up quickly. And you'll really enjoy their newfound skill when they've learned how to play UNO.
If you haven't already grab yourself a pack of UNO cards and a card holder (this makes it much easier for them to hold their cards) and start playing!
And check out these other fun games that your toddler or preschooler will love to play.
---
Dear Mom who can't seem to get everything done!
{Better Than Store Bought} Chewy Granola Bars