Say goodbye to chapped lips with this DIY natural and easy chapstick! The best part about this medicated lip balm is that you'll have it made in just 20 minutes with this super easy recipe.
(Do you enjoy making your own home and beauty products. Check out my DIY projects here.)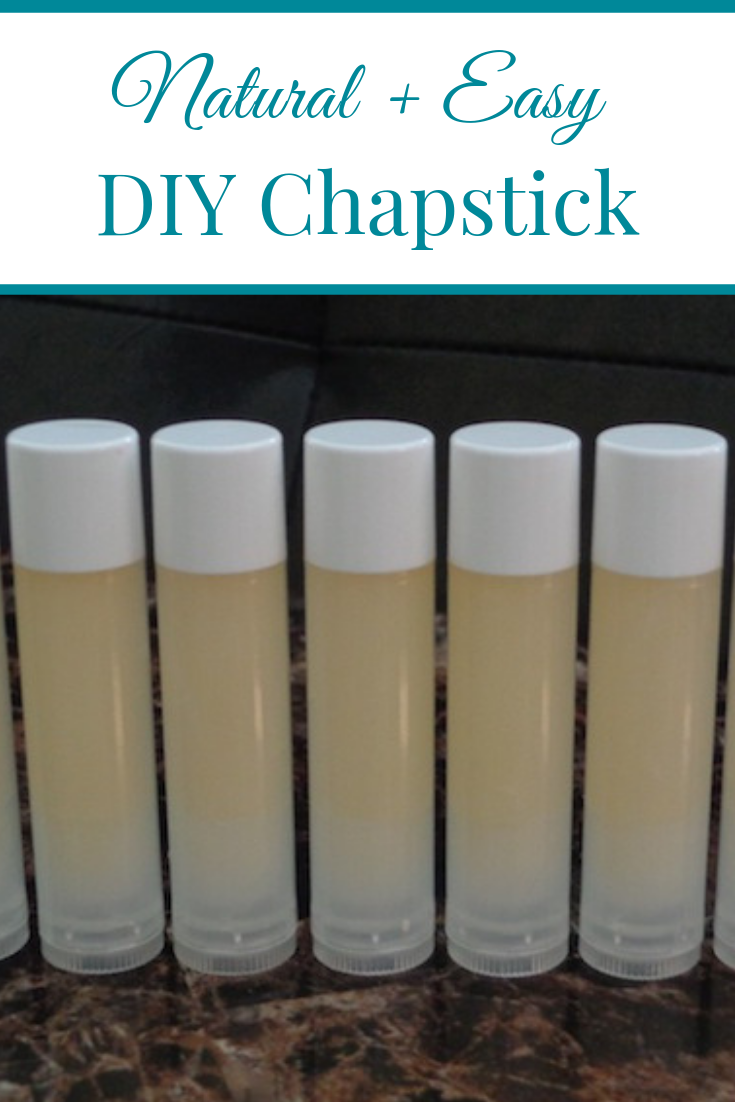 Trent and I are constantly using chapstick so I figured I would try making my very own chapstick. Who knew it was so easy?! I under 20 minutes I had whipped up 20 tubes of lip balm. After making my own chapstick, I doubt I'll be going back to the commercial lip balm.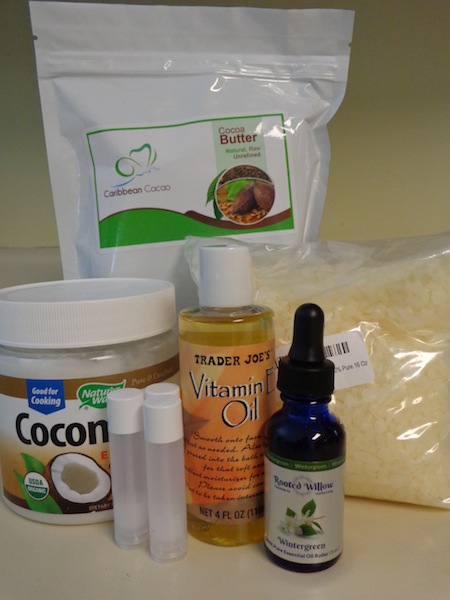 DIY Natural and Easy Chapstick Ingredients
1 1/2 oz (3 tablespoons) Coconut Oil
1 oz (2 tablespoons) Cocoa Butter
1 oz (2 tablespoons) Beeswax
3 drops Vitamin E Oil
28 drops Wintergreen Essential Oils
Medicine Syringe (optional, but highly recommended)
*One chapstick recipe barely put a dent in the supplies I purchased and I'll have plenty to make even more!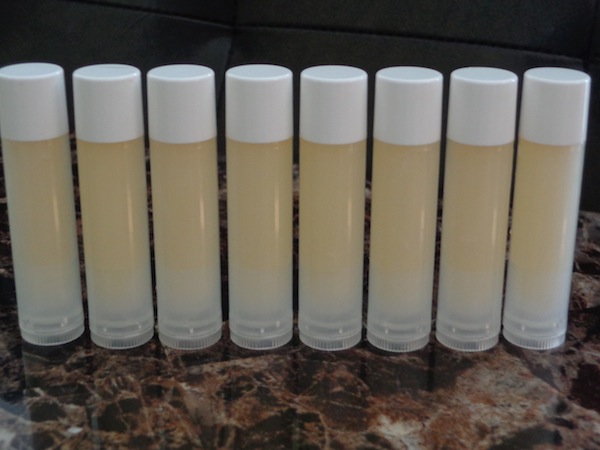 The Chapstick Possibilities Are Endless
Essential Oil Flavors for DIY Chapstick
If you're not a big fan of wintergreen, you can easily use these other essential oils.
Spearmint
Peppermint
Orange
Mandarin
Tangerine
Lemon
Lime
I've found that the key to using various essential oil flavors in my lip balm is to test out how many drops of essential oil I need by putting a few drops of the mixture on my finger until it's at my desired amount.
DIY Chapstick Containers
I used a traditional chapstick holder but you can definitely use these flat and round lip balm containers or these flat and rectangular containers . (Whichever tickles your fancy.)
DIY Tinted Chapstick
If you want a tinted lip balm simply add 1 teaspoon of mica powder to your melted chapstick mixture (before you add it to the containers).
Choose from these different color options:
Amaranth (this is my favorite and one I use often)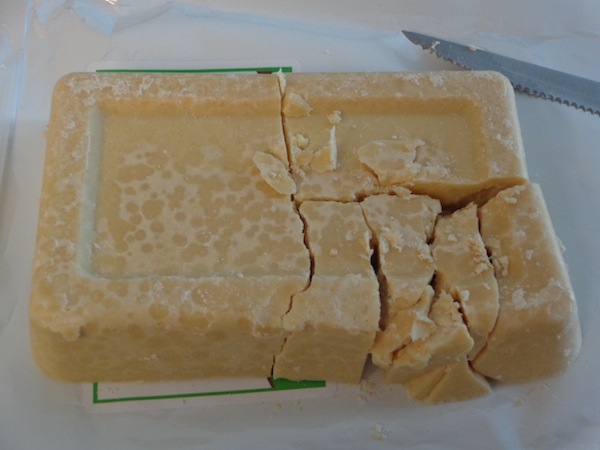 The Cocoa Butter I purchased came in a 16 oz block. To get 1 ounce, cut the 16 oz block in half, cut one of the 8 oz blocks in half, and cut the 4 oz block into four 1 oz pieces.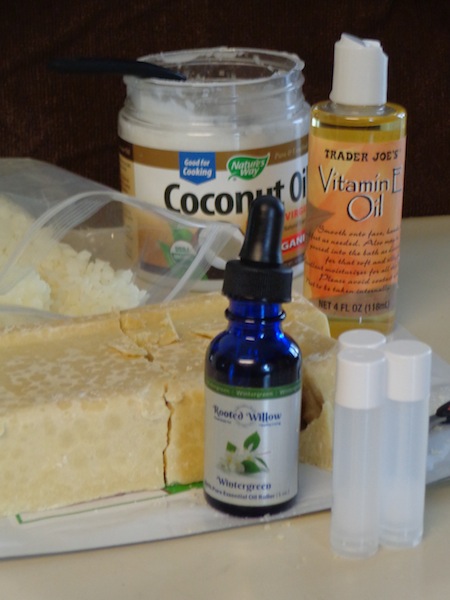 Place the Coconut Oil, Cocoa Butter, Beeswax, and Vitamin E Oil in a glass container.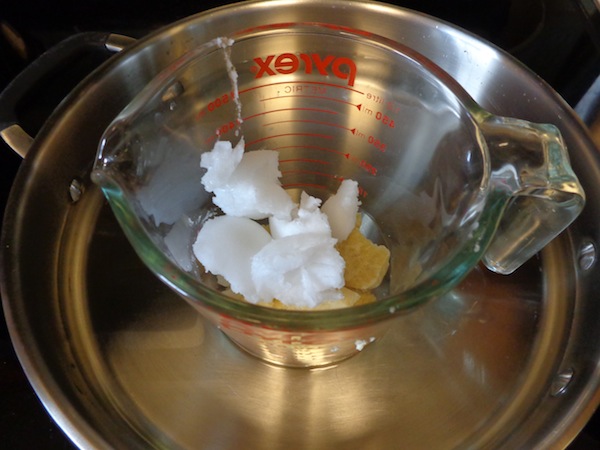 Fill a large skillet with a few inches of water.  Place the glass container in the center of your skillet and melt on medium heat.
As your ingredients are melting, twist your chapstick containers down to the bottom of the tube. (Thankfully mine came that way.)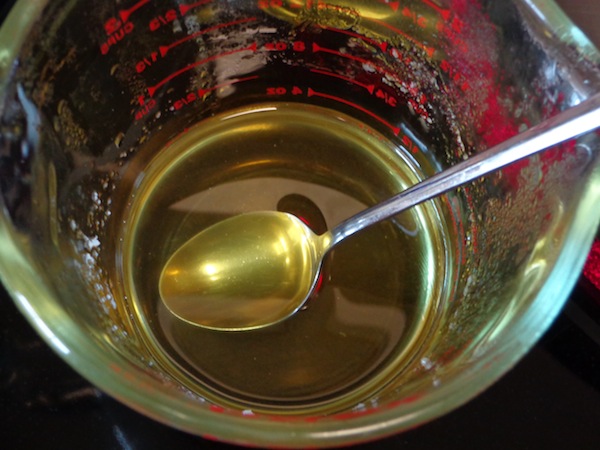 Stir every few minutes until the mixture is totally melted (10-15 minutes).
Once melted, stir in the Wintergreen Essential Oils.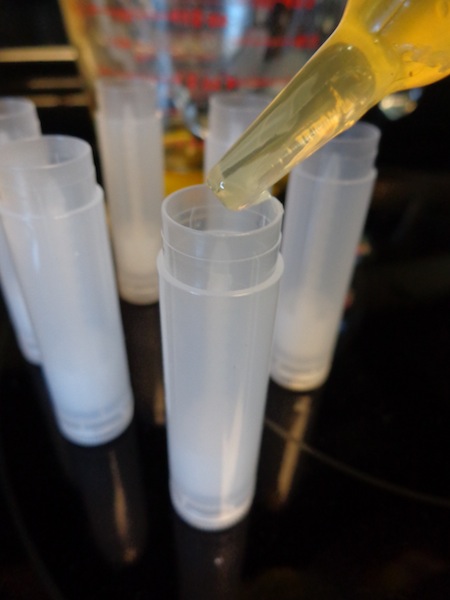 Using the medicine syringe, fill the chapstick containers.  (I highly recommend the syringe because it would have been messy if I hadn't used it.)
Once the chapstick hardens (it literally took about 2 minutes), add a few more drops of your melted mixture to the top of the chapsticks – this will even off the tops and make them look pretty!

Cleaning the Syringe
The hardest part of this process is cleaning the medicine syringe (which isn't very hard at all).
Once you've finished filling your chapsticks, place the tip of your syringe in the lukewarm water in your skillet. Swirl around for a few seconds and then empty into a paper towel. Do this a few times until your syringe is clean. Mine had a tiny bit left in the very tip so I used my cake tester to finish the cleaning.
Before you wash your glass container and spoon, wipe them down with a paper towel. This will ensure that the chapstick doesn't go down your drain and clog it up!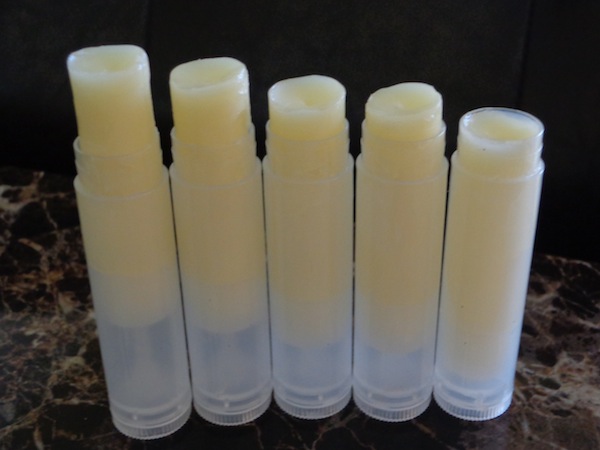 You're going to love how smooth and soft this DIY easy and natural chapstick recipe makes your lips feel. You'll literally be able to say goodbye to those chapped lips!
You'll Love These Chapstick Holders
---
Read Next: