Is prayer important? Does it really matter? Are you wondering what God thinks about prayer? Let me show you what the Bible says about the importance of prayer!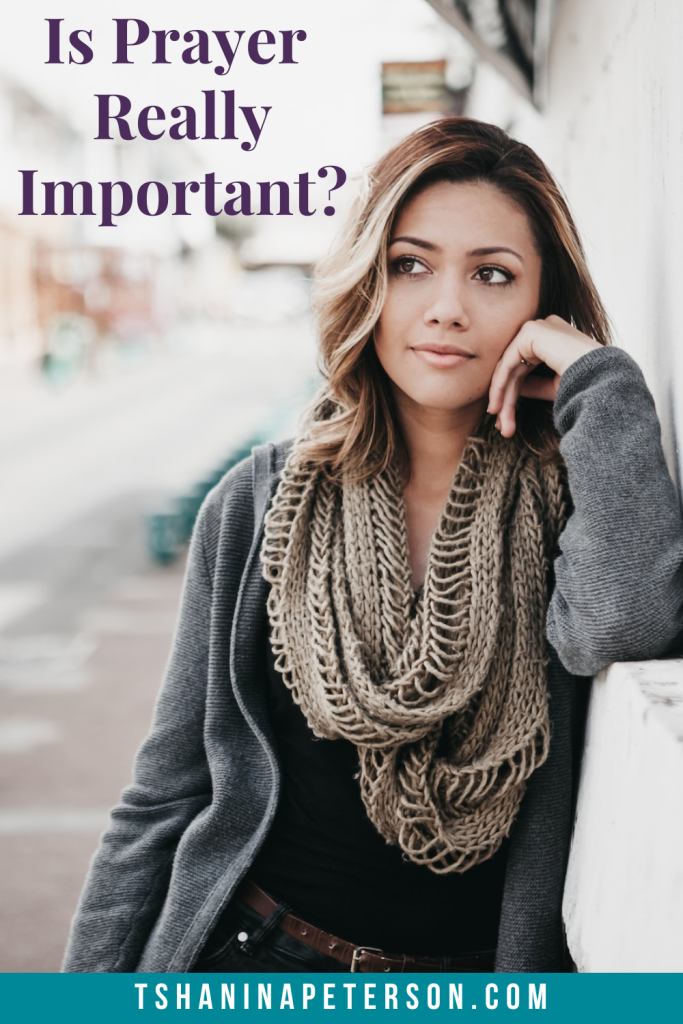 What's the purpose of prayer?
Simply put, the purpose of prayer is to talk to God.
If you want to grow and strengthen your relationship with the Lord prayer is one of the best ways to do that as you communicate with Him.
Prayer is also an act of worship as you thank God for who He is and what He's done for you.
Another purpose of prayer is to share your requests with the Lord, whether that be for yourself or for others.
Is Prayer Important In Christianity?
Why is it important to pray?
I love what Soren Kirkegaard says, "Prayer does not change God but it changes Him who prays."
The best way I know how to explain the importance of prayer is that it draws you closer to the Lord. (You'll even see it in the Bible verses I share below.)
When you're talking to the Lord and sharing what's on your heart you can release the situation to Him trusting that He has your best interest at heart. This doesn't mean your situation will immediately be resolved but praying gives you peace.
Prayer also allows you to access the power of God through the Holy Spirit. It's not about you getting God to do something for you but about Him working in and through you to do His will. (Check out Paul's powerful prayer in Ephesians 3:14-20)
What does the Bible say about the importance of prayer?
You'll notice a few common threads as you check out these verses. Not only does God hear us when we pray to Him but prayer draws us closer to Him.
James 4:8a
Come near to God and he will come near to you. 
Philippians 4:6-7
Do not be anxious about anything, but in every situation, by prayer and petition, with thanksgiving, present your requests to God. And the peace of God, which transcends all understanding, will guard your hearts and your minds in Christ Jesus.
Psalm 5:3
In the morning, Lord, you hear my voice; in the morning I lay my requests before you and wait expectantly.
1 John 1:9
If we confess our sins, he is faithful and just and will forgive us our sins and purify us from all unrighteousness.
James 1:5
If any of you lacks wisdom, you should ask God, who gives generously to all without finding fault, and it will be given to you.
Psalm 145:18
The Lord is near to all who call on him, to all who call on him in truth.
1 Chronicles 16:11
Look to the Lord and his strength; seek his face always.
Jeremiah 33:3
'Call to me and I will answer you and tell you great and unsearchable things you do not know.'
1 John 5:14
This is the confidence we have in approaching God: that if we ask anything according to his will, he hears us.
Hebrews 4:16
Let us then approach God's throne of grace with confidence, so that we may receive mercy and find grace to help us in our time of need.
Jeremiah 29:12
Then you will call on me and come and pray to me, and I will listen to you.
What does God think about prayer?
Do you want great communication in your relationships? God does too!
God wants to hear about your day, and longs for you to share your hopes and dreams with Him. Even though He already knows what you're going to say when you pray (Psalm 139:4) He gets excited at the thought of hearing from you!
God longs to hear from you!
Years ago I heard the story of an empty chair. It's short and powerful and a beautiful reminder that God longs to hear from you.
There was a girl who, every night before bed, put an empty chair in the middle of her bedroom. Each morning when she awoke she pictured God sitting on the edge of that chair in excitement.
She was reminded (much like the anticipation of a kid on Christmas morning) how much God longed to talk with her that day. The chair not only reminded her of how important it was to start her day in conversation with Him, but to continue throughout the entire day!
I'll leave you with one of my favorite quotes that will remind you how important prayer is.
"Prayer should be the key of the day and the lock of the night." – George Herbert
---
If this was helpful answering the question is prayer important, you should also check out: