Your planner is filled with tons of things to do but you've lost all inspiration to even start. Girlfriend, I've been there and it's no fun! Whether you're a business woman, a mom taking care of your house or a college student juggling all the things, I want to share with you the best productivity tip to give you motivation for better time management. It's an awesome life hack that will get you moving!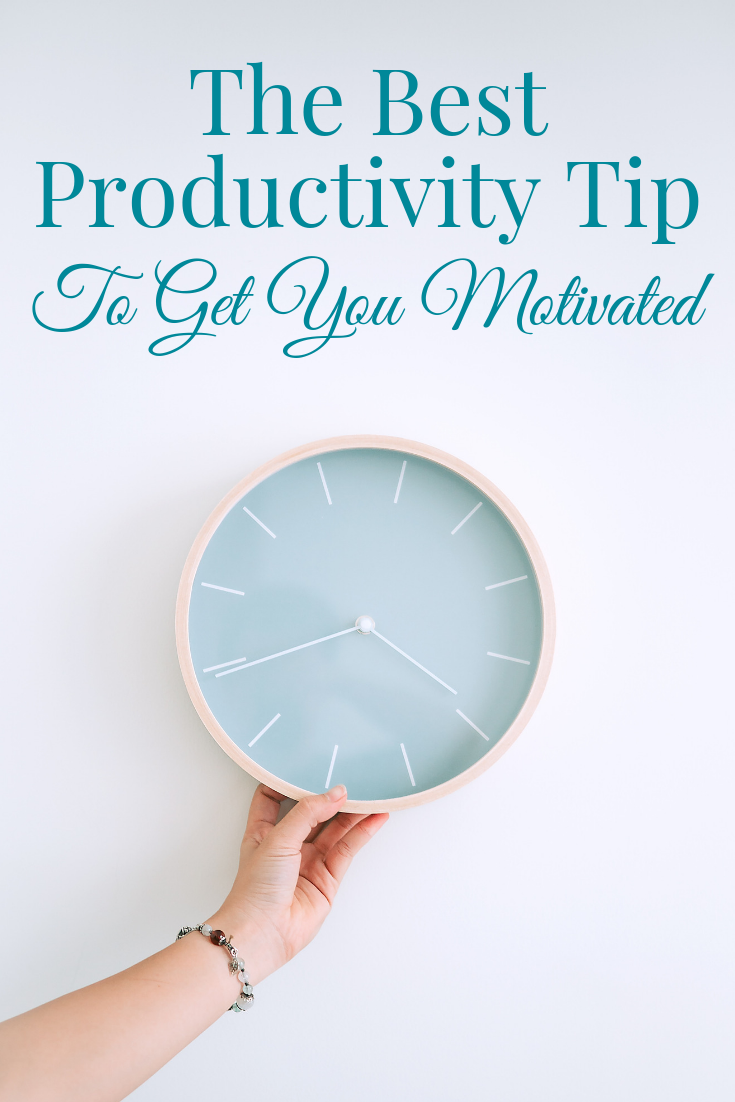 There's nothing worse than having your to-do list all organized the night before then sitting down to work on it only to lose any and all gumption to get started on a project.
I can't tell you how many times I've done this. I'll get stopped in my tracks before I even get started on my list.
When this happens it's usually because some of the things on my list are items that I'm dreading doing. (Yes, we all have a few of those things on our list.)
So how do you get the motivation to start?
When this happens there's only one thing you can do…and it's really very simple.
Figure out the item on your to-do list that you're dreading the most and DO IT FIRST.
Do it very first. Don't wait…do it right then.
How will this give me motivation with my productivity?
It's really very simple actually! When you do the thing first that you're dreading it will clear up your brain space.
As you're doing the fun things you won't have that thing in the back of your mind that you're dreading because you've already marked it off of your list.  Trust me, doing that thing first will make your day a lot brighter and your tasks will flow much easier. You'll have more creativity because your mind will be clear, thus helping you be more productive!
Don't just take my word for it, though. I want you to try it for yourself. (And report back and let me know if it really does work.)
Case and Point
Hands down, cleaning the bathrooms is my least favorite household chore. And on the days when I'm supposed to clean the bathroom I try to do it first.
Once the bathrooms are cleaned I can sail through the other items I need to work on because they're easy or a task I'm excited to work on. And, yes, it may be a mental thing to put this tip into practice but I'm here to tell you that it works.
Maybe you have a phone call that you need to make, an email that needs to be written, or even a household chore that you're dreading. I challenge you to get it done first so that it doesn't bog down your brain and clutter your mind and you're thinking about it all day.
I know this is very simple but it really is the best productivity tip to give me motivation. What can I say? I like to keep things easy and simple!
So here's my question for you. What is your best productivity tip?
---
Read Next: